Black by Choice…
(ThyBlackMan.com) President Obama created a bit of a stir in early April when he completed his Census form. In response to the question about racial identity the president indicated he was "Black, African American or Negro." Despite having been born of a white mother and raised in part by white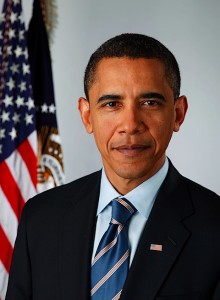 grandparents, Obama chose to identify himself solely as black even though the Census allows people to check multiple answers for racial identity.
This choice disappointed some who have fought to ensure that multiracial people have the right to indicate their complex racial heritage. It confused some who were surprised by his choice not to officially recognize his white heritage. It led to an odd flurry of obvious political stories confirming that Obama was, indeed, the first African-American president.
When Obama marked his Census form, he offered another lesson in what has been an intensive if unintentional seminar on the social construction of race. In just a few years, decades of multiple racial formations have been projected onto him at hyperspeed; it's a bit like watching those nature films that show the growth of an apple tree from a seed in just thirty seconds. When Hillary Clinton held a significant lead among black voters, media outlets regularly questioned if Obama was "black enough" to earn African-American electoral support. When the Rev. Jeremiah Wright dominated the news cycle, the question shifted to whether Obama was "too black" to garner white votes. By the final months of the campaign, Obama's opponents charged that he was a noncitizen, a Muslim and a terrorist. In less than two years a single body had been subjected to definitions ranging from insufficiently black, to far too black, to somehow foreign and frightening.
But Obama did more than disrupt standard definitions of blackness; he created a definitional crisis for whiteness. Imagine for a moment that a young American falls into a Rip Van Winkle sleep in 1960. He awakens suddenly in 2008 and learns that we are in the midst of a historic presidential election between a white and a black candidate. He learns that one candidate is a Democrat, a Harvard Law School graduate, a lecturer at the conservative University of Chicago Law School. He also discovers that this candidate is married to his first wife, and they have two children who attend an exclusive private school. His running mate is an Irish Catholic. The other candidate is a Republican. He was an average student who made his mark in the military. This candidate has been married twice, and his running mate is a woman whose teenage daughter is pregnant out of wedlock.
Now ask our recently awakened American to guess which candidate is white and which is black. Remember, his understanding of race and politics was frozen in 1960, when a significant number of blacks still identified themselves as Republican, an Ivy League education was a marker of whiteness and military service a common career path for young black men. Remember that he would expect marriage stability among whites and sexual immorality to mark black life. It's entirely possible that our Rip would guess that Obama was the white candidate and McCain the black one.
By displaying all these tropes of traditional whiteness, Obama's candidacy disrupted the very idea of whiteness. Suddenly whiteness was no longer about educational achievement, family stability or the command of spoken English. One might argue that the folksy interventions of Sarah Palin were a desperate attempt to reclaim and redefine whiteness as a gun-toting ordinariness that eschews traditional and elite markers of achievement.
Obama's whiteness in this sense is frightening and strange for those invested in believing that racial categories are stable, meaningful and essential. Those who yearn for a postracial America hoped Obama had transcended blackness, but the real threat he poses to the American racial order is that he disrupts whiteness, because whiteness has been the identity that defines citizenship, access to privilege and the power to define national history.
In 1998 Toni Morrison wrote that Bill Clinton was the first "black president" because he "displays almost every trope of blackness: single-parent household, born poor, working-class, saxophone-playing, McDonald's-and-junk-food-loving boy from Arkansas." Ten years later the man who truly became America's first black president displayed few of these tropes. Instead he was a scholarly, worldly, health food-eating man from Hawaii. In this sense, Obama was the white candidate in 2008, and a substantial portion of white voters preferred Obama's version of whiteness to that of McCain and Palin.
Which brings us back to Obama's Census choice. Despite his legitimate claims on whiteness, he chose to call himself black. As historian Nell Painter documents in her new book The History of White People, white identity was a heavily policed and protected border for most of American history. A person born to an African parent and a white parent could be legally enslaved in America until 1865. From 1877 until 1965 that person would have been subject to segregation in public accommodations, schools, housing and employment. In 1896 the Supreme Court established the doctrine of separate but equal in the case of Homer Plessy, a New Orleans Creole of color whose ancestry was only a small fraction African. President Obama's Census self-identification was a moment of solidarity with these black people and a recognition that the legal and historical realities of race are definitive, that he would have been subject to all the same legal restrictions had he been born at another time. So in April, Obama did as he has done repeatedly in his adult life: he embraced blackness, with all its disprivilege, tumultuous history and disquieting symbolism. He did not deny his white parentage, but he acknowledged that in America, for those who also have African heritage, having a white parent has never meant becoming white.
Written By Melissa Harris-Lacewell