Jamaica; Resilience of People.
(ThyBlackMan.com) Every year during hurricane season, I think back to the summer of 2007 when my family and I vacationed on the Caribbean island of Jamaica and witnessed the resilience of people there. As we planned the trip, I paid little attention to the fact that we would be traveling during potentially treacherous hurricane season. The days leading up to vacation were consumed with wrapping up loose ends at work. My husband and his sister, who spent their childhood living in Jamaica, were excited to plan the trip. To them, the fact that it was hurricane season was no big deal. They took charge of the planning and I was content to have them do so.
Our vacation plans caught my attention two days before leaving as I began to pack for our trip. Listening to the news, I first learned of Category 4 Hurricane Dean as it barreled toward Jamaica at speeds approaching 100 mph. My American nerves kicked in at the thought of carelessly flying my children into harm's way. When I mentioned my concerns to my husband…, "no worries", was his response. We flew in to Montego Bay Airport just hours before Dean's arrival. Our flight was practically empty and I couldn't help but think that my family and the few others onboard were the only fools knowingly flying into danger.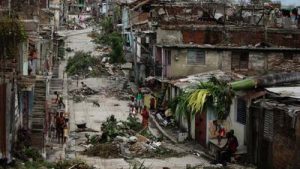 As we arrived in Montego Bay, we curiously breezed through customs. The customs official very casually mentioned that this would be the third storm to threaten Jamaica, with the first few veering off the coast before causing too much damage. According to the official, reports suggested that Dean, the strongest of the three, had "no plans of veering off". As we exited customs, we noticed a mob scene of tourists clamoring in search of flights to get off the island. My worries intensified as we headed to the hotel. Looking back at the lines and traffic headed toward the airport, I kept thinking that we were headed in the wrong direction.
At our hotel, international news held continuous coverage of local storm preparations and the potential to destroy homes and kill thousands. The news showed the airport overrun with tourists and Jamaicans bracing for the worst storm in a decade. The government and its people were actively preparing for the storm that would severely affect homes and families and render havoc to their peaceful island livelihood. The hotel lobby and elevators posted signs of mandatory briefing sessions in preparation for the storm.
My thoughts kept going to the living will that I had been working on for 5 years yet never completed. I also worried that I had not shared our vacation plans with my brother back home. "No problem", as our Jamaican hosts would say. I will just call him from my cell phone to advise him of where we were staying in case anything happened. That would have been a great plan IF there were cell service on the island.
In hindsight, it seemed that I was the only one worrying. Even my children were settling into the relaxed atmosphere. They too started joining their father, aunt and uncle in asking, "Mom, what are you worried about?" My husband, who I wanted to strangle, kept assuring me that everything would be okay.
I don't recall when my worries began to subside. Perhaps it was the calm island breeze that flooded the beaches or the feel of warm sand between my toes. The hotel had a few dozen families in addition to our own enjoying the island calm amidst the news reports. Hotel staff were busily readying our surroundings while others entertained us with games of bingo and push-up contests by the pool. While my family and the others ate and drank oblivious to the preparations around us, I watched as windows were braced with plywood. Beach tables and chairs were secured. Duct tape crossed the windows. Staff attended to our every need. Our bellies were full and cocktails were plentiful, all to distract from what was happening around us.
Things did not stay calm for long however, as winds began to pick up. The hotel gave us care packages of food and water and quarantined us to our rooms as news reports indicated that the storm would bear down late evening and into the night. From our rooms the view appeared tranquil and calm. We were protected. I kept wondering about the preparations happening outside of the resort grounds as local Jamaicans prepared for the storm. In our room, we played cards until the children fell asleep. I laid there through the night listening to the howling winds, no longer concerned about how my family would survive the storm but of the devastation happening beyond our peaceful retreat. Earlier that day, some hotel staff explained that they were better off in the hotel caring for us during the storm than at their fragile homes among the villages. They worried how their loved ones would withstand the storm but didn't dare leave the resort as keeping their jobs depended on them staying and making sure that we felt safe and protected. It was a sleepless night. I continued to worry about the possibilities of disaster while my family enjoyed a restful night's sleep despite the winds and cracking trees.
By morning, the storm had passed and we were allowed to leave our rooms. Workers were busy repairing broken windows. With smiles on their faces, hotel staff were ready to resume catering to our every need. Walking the beach that next morning, the waters were calm. The tranquility we felt upon our arrival seemed even more so tangible. Anxious to leave the property we hired a car and drove through areas hit hard by the storm. Jamaicans were out and about helping each other recover from the devastation. Homes were lost. Rubble down to the ground. Property damaged beyond repair yet Jamaicans were already focused on recovery. They were busy sweeping up glass, taking down boards from windows and clearing dead palms blown from trees. Businesses focused on re-opening as word had spread that the airport would soon re-open.
We stopped at one little shop and chatted with the owner as he cleaned up the surrounding debris. He explained what we hadn't fathomed. A day's pay lost due to the closed airport was the least of his worries. A full year's banana crop had been lost to the storm. And here we were safe in our protected perch as the storm passed.
We drove further into the villages to see more children helping their parents search for their belongings amidst the rubble. Street vendors along the roads attempting to reconstruct the huts that their livelihoods depended upon. Communities, young and old, helping each other rebuild.
To this day, the devastation of the island's people is a constant memory for me. A memory that re-surfaces whenever I hear the devastation of hurricane season that threatens Caribbean life. The people of Jamaica, Haiti and Dominica deserve our empathy, concern and support during this time each year.
Staff Writer; Valerie Rainford
Official website; http://www.ValerieRainford.com
Twitter; http://twitter.com/authorvalrain