Why Hate on LeBron James.
(ThyBlackMan.com) I grew up watching the 90's Chicago Bulls, and of course I am a Michael Jordan fan. This did not stop me from appreciating Kobe Bryant nor LeBron James. The basketball debate can go on until the end of time and it will. Fans that favor players more than the game itself seem to have a hard time acknowledging areas where someone other than their favorite player dominates. Granted you can imagine what the arguments look like regardless of what the stats reveal. As long as we are discussing basketball the fun fussing can continue. The question that one needs to ask is why do we seem to hate LeBron James?
Charles Barkley, when playing in the NBA, had a commercial stating simply he was not a role model. Yes, we heard him, but the truth is athletes and celebrities are role models. Children look up to them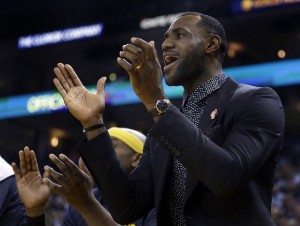 whether we like it or not. If that is the case where has LeBron James failed us thus far? That is a question we really ought to ponder over because our people can levy many complaints against athletes. Everything about them is under a microscope. With that one must still ask where has LeBron James failed us? Do we dislike him must for the hell of doing so? Is it we hear his name too much? Are we tired of seeing discussions about him? Do we feel he flaunts his good deeds?
LeBron James has proven he could be a high-profile athlete, family man that's married to a black woman (you know that's a harping point for many), and he is putting our children through college. he has made education something he not only believes in but is willing to use his money to support. As social problems plague our communities James has been openly vocal with the people. Granted, I agree his fashion can be questionable at times, however it is a reflection of the current times as was his predecessors.
We live in the time of social media so everything makes its way to the internet, and it doesn't have to come from the sources involved. LeBron James does a lot of great work in the community in the public sector, so you will see it, and hear about it. However, isn't that better than seeing negativity? If you claim you are tired of hearing about him…you must have missed Jordan & Kobe's time in the NBA. We heard their names all the time, and to be honest there were times when it wasn't in the best light.
LeBron James, outside of basketball jousting, has not done anything to earn our hate. He has given up positivity, and he pours deeply into the community. He stands with us on subjects like police brutality and the current administration. He presents himself in a respectable manner so why are we truly mad.
Do we believe that celebrating LeBron James for what he brings to the league, and the community, unravels the greats that came before him? That's not the case at all, and if athletes are role models…LeBron James isn't bad at all. Chime in on your thoughts as to why so many hate LeBron James.
Staff Writer; Christian Starr
May connect with this sister over at Facebook; https://www.facebook.com/christian.pierre.9809 and also Twitter; http://twitter.com/MrzZeta.