The importance of black female leadership as explained by Buffalo's Felisha Legette-Jack.
(ThyBlackMan.com) The 2018 NCAA Division I Women's Basketball Tournament concluded with an exciting finish as Notre Dame won the championship on a last second shot by Arike Ogunbowale. Notre Dame was led by head coach Muffet McGraw and was the second straight women's college basketball championship for a female head coach as Dawn Staley won the championship leading South Carolina the previous season. Women's college basketball has been dominated by the University of Connecticut and their Hall of Fame head coach Geno Auriemma but it has been women leading the last two national championship teams. Staley's championship at South Carolina was particularly important because she was the first black woman to be the head coach of a NCAA women's basketball championship team since 1999.
The importance of black female head coaches in women's college basketball is not lost on University at Buffalo women's basketball head coach Felisha Legette-Jack. For Division I women's basketball, which is the highest level of college basketball, black women only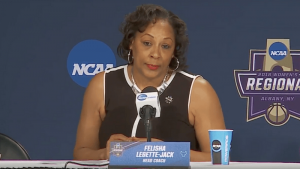 held 11.4 percent of the head coaching positions in 2016-17 in a sport in which young black women were 43.4 percent of the college basketball players. Felisha Legette-Jack led Buffalo to success in the 2018 NCAA Division I Women's Basketball Tournament by winning a couple games before losing to Staley's South Carolina team.
Following her team's loss, Legette-Jack was asked a question about leadership opportunities for women of color during a press conference. Legette-Jack's response was reflective and introspective as she replied, "Wow. I have some really amazing colleagues that look like me. I have so many friends that had an opportunity and they lose their opportunities and never be coming back up at all. It took an African American woman to notice me when I lost my job at Indiana.
Had she not noticed me, Danny White would have never known about me; and because she spoke to him and I was able to present myself to him, I was able to get this opportunity to bring this — from where it was to where it is now. I hope my colleagues don't get frustrated and never comeback. There's a Gillette laws on this staff from South Carolina and we used to go up against each other when she was at Illinois; a Cincinnati coach who played at a high school gym and at the end was asked to leave."
For Legette-Jack, she understands the importance of young women of color seeing women of color in leadership positions as she noted, "I'm saddened by it. I understand the problem. I know that the majority of women basketball players look like me. I think that these young women, if we really care about them as people, that they will have role models that look like them. Because they are going to play four years for whomever, and then they get an opportunity to go in this world, and they are not going to find anybody that looked like them, and they are going to have to figure out how to navigate at a different level." Her words speak volumes about how critical it is for diversity with leadership opportunities for women of color and especially black women.
Staff Writer; Mark Hines