Lavar Ball, Lonzo Ball; The negatives of helicopter parenting.
(ThyBlackMan.com) Virtually every parent on the planet wants the best for their children but the problem of "helicopter parenting" is always a concern with raising children. Psychotherapist and parent educator Dr. Haim Ginott coined the phrase "helicopter parenting" in his 1969 book "Between Parent and Teenager". The phrase became so prominent that it was added as an entry into the new Merriam Webster Collegiate Dictionary in 2011. A "helicopter parent" is "a parent who is overly involved in the life of his or her child".
Being overly involved in the direction of a child can definitely happen for parents of athletes where developing a child's sports skill can be a delicate thing. Being a "helicopter parent" may help a parent get their child to incredible success as an athlete but there can be significant negatives in being a "helicopter parent" for the parent-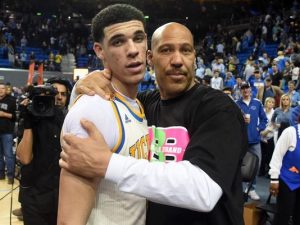 child relationship.
Former UCLA basketball star Lonzo Ball had a terrific freshman year and will likely be a top five pick in the 2017 NBA Draft. At the young age of 19 years old, Ball will become a multimillionaire shortly after being drafted into the NBA. Lonzo Ball also has a father, LaVar Ball, who has been very public and vocal about the management of his son's career and the prospects of his other sons who also play basketball. LaVar Ball has arguably become the most famous father in sports due to his incredible remarks and brash behavior regarding the talents of Lonzo Ball, his own talents, and building a brand based on the talents of the children he has raised into quality athletes.
It can be said that LaVar Ball has reached the status of "helicopter parent" because he has gotten involved in disputes with his sons' high school basketball coach and has also insulted the son of the college basketball coach his other sons will play for. It speaks to the great talent and potential of Lonzo Ball that his father's actions has not negatively affected him but the LaVar Ball situation is a potential issue that NBA teams will have to question as it relates to Lonzo Ball being a member of their NBA team.
There are some other big negatives of "helicopter parents" that can be apparent. The child of a "helicopter parent" can have decreased confidence, undeveloped coping skills, and even undeveloped life skills. Having such a big control over the life of their child shows a lack of confidence in the child making the right decisions which can lead to problems in their abilities to adjust to the challenges that life throws at individuals into adulthood. "Helicopter parents" like LaVar Ball can even treat their college-age children like they are unprepared adolescents who are unable to make their own decisions or be a voice for themselves.
There has been an increase in the amount of "helicopter parents" of college students, which is surprising as college students are truly entering young adulthood and should be able display their independence. While "helicopter parents" like LaVar Ball might point to the parenting methods of the fathers of athletes like Venus and Serena Williams and Tiger Woods as reasons for being extremely involved in the lives of their children, it is vital for parents to show trust in their children so they can develop into the most productive adults possible.
Staff Writer; Mark Hines