Book Review: Banking on Kids: Money Matters Cradle to Seventeen.
(ThyBlackMan.com)
While reading through trade publication this writer came across some interesting information on a recently published book by yours truly.  This independent review was conducted by one of a few well respected book critics I have never had the pleasure of meeting, yet, am humbled by its candor and honesty. This review was dated April 2, 2016, I thought I would share this one with my loyal ThyBlackman readers…Enjoy!
Banking on Kids: Money Matters Cradle to Seventeen
Author: Stanley G Buford
Non-Fiction
Target Market: Adults, Parents, Families
Book Reviewer: Alex Burns
Format: Kindle eBook Edition; 49 pages (Available at Amazon.com)
It's an interesting fact that money and financial information are sources of knowledge that our generation's children are barely exposed to. Important things like compound interest, superannuation and mortgages are treated like taboo topics and younger people are left to stumble around in the dark in the early years of financial independence. The author of 'Banking on Kids: Money Matters Cradle to Seventeen', Stanley G Buford, seeks to rectify this situation with a compelling non-fiction book: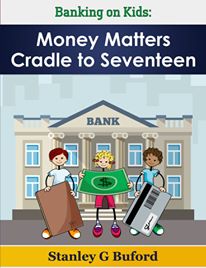 Banking on Kids: Money Matters Cradle to Seventeen

This book deals with the mature world of finance in a witty and captivating way that makes it highly accessible for the entire family to read. Parents especially will benefit from the lessons in this book which affirm the importance of schooling your children in some of the lesser known financial fields, such as, investments, bonds or various taxation schemes. The writing within the book itself is obviously well researched and referenced. Certain complicated financial terms are succinctly explained and their importance exposed within a larger economic framework. Stanley's syntax is spot on and his writing style is well suited to the establishment of a progressive stream of financial knowledge where one page builds upon the next.
Moreover, as a former Bank Executive and classroom teacher Stanley has a background that immerses him in the complexities of his subject matter while simplifying it for his audience. Stanley is a graduate of DePaul University with a degree in Curriculum Development; with a Specialization in Economic Education, small wonder that he writes on this subject with ease and expertise. To keep his skills honed Mr. Buford has taught a class called: Management of Organizational Systems as an Adjunct Professor at Concordia University. This book is rated on a scale of 1 to 5; with 5 being the highest:
5 Stars all the way!
Purchase Book; BOK: Money Matters Cradle to Seventeen.  (—————