Khloe Kardashian, Lamar Odom pregnant, headed for Divorce?
August 29, 2013 by Staff
Filed under Uncategorized
(ThyBlackMan.com) Now this is one Hollywood relationship I actually thought had a chance to last. Khloe Kardashian and Lamar Odom is a couple I hoped would make it through their marital struggles. But as the R. Kelly song goes "When a woman's fed up there ain't nothing you can do about it."
Khloe Kardashian and Lamar Odom have separated after his drug problem drove them apart. According to TMZ, the CNN of gossip Lamar Odom's drug problems are still a problem. It's reported that Odom has been addicted to crack cocaine for the past two years.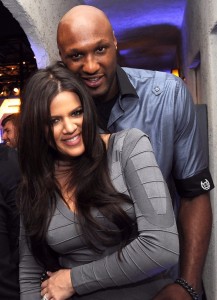 Khloe Kardashian's better half, Lamar Odom has attended rehab in the past and was successful with staying clean. But is appears that after his season with the L.A. Clippers he has not only gone downhill, but he has also been skiing the white slopes known as cocaine.
http://www.tmz.com/2013/08/26/khloe-kardashian-lamar-odom-separated-drugs-crack-cocaine-intervention/
Being the type of woman and dedicated wife that she is Khloe Kardashian has stuck by the side of her man Lamar Odom. She's been that ride or die chick to the man she exchanged wedding vows with. When he was kicked from the Clippers she didn't bat an eye and ignored all of the media nonsense and continued to be there for her man.
But after this latest relapse is she saying that enough is enough?
Last week, the Kardashian clan staged an intervention to convince Odom to go back to rehab, but he wasn't interested. Lamar Odom's drug addiction has been kept under wraps as a big family secret for most of their marriage. Wow! I'm surprised that Kris Jenner kept that information from the media. She could have made a nice penny selling that story.
Had it not been for the rumors revolving around Lamar Odom's infidelity against Khloe Kardashian and his sleeping around, his secret drug problem may have remained a secret. If all of this is true it seems that Khloe was willing to deal with the other women, but obviously drugs is where she draws the line.
Khloe Kardashian also appears to be at her wits end, which seems to be coming through her Twitter posts. She has gone to Twitter venting her frustration with the whole ordeal.
"Really hard to sit here and listen to people talk sh-t about my family!" the 29-year-old wrote. "F-ck you and shame on you! I'm too protective for this sh-t!" The Keeping Up With the Kardashians star has kept mum about any possible marriage woes so far, but has posted a few cryptic tweets within the past week. "Stop trying to figure me out and get to know your self first," she wrote Aug. 21. "Only the strong will survive," she added two days later.
Let's call our prayer warriors together for this couple and pray that Khloe Kardashian and Lamar Odom work through their marital problems and come out of this successfully.
Staff Writer; LadyK
Gossip/Ent. Tips and Feedback to; LadyK@ThyBlackMan.com