Blue Ivy Carter, An Early Insight To The Life, Aged One year.
June 24, 2013 by Staff
Filed under Uncategorized
(ThyBlackMan.com) Blue Ivy Carter, the beautiful daughter of Beyonce was born on Saturday, 7th January, 2012. She has two very famous parents, one being her mother Beyonce, the famous pop star singer, and adoring father, Jay Z, a hip hop superstar. It is unknown what lies ahead for this showbiz baby, whether she will follow in the footsteps of her parents or create her own path to stardom.  
Blue Ivy Carter was born in the Manhattan Lenox Hill hospital, following an alleged 1.3 million dollar payment to the hospital, in order to maintain absolute secrecy throughout the birth- renting the entire fourth floor.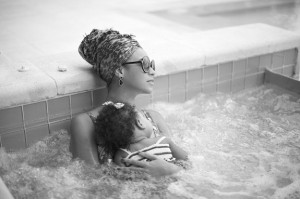 Where Did The Name Blue Ivy Come From?
Blue Ivy Carter acquired her quite unusual name from several sources; "Blue" is reported to come from her father's track- "Go Crazy", which he sang with Young Jeezy. Jay Z is also famously noted for stating that "His favourite hue is blue", another sparking similarity to the young child's name.
 Ivy is said to originate from the Roman numeral IV, meaning four. The number four is significant to both Beyonce and Jay-Z, Beyonce's birthday falls on September 4th, Jay Z's falls on the December 4th, and the couple wed on the 4th day of the 4th month, coincidence?
We will never know-that is unless Beyonce makes an official announcement to her ever curious audience, and judging by her desire for absolute secrecy regarding the birth, this is highly unlikely to happen in the near future.
What Does The Future Hold For Young Blue Ivy?
Blue Ivy Carter, with her two highly successful parents is unlikely to ever want for any material goods as she grows and develops into adulthood. She will mix with the stars, yet her protective mother will still attempt to ensure that her daughter is able to lead a normal life as much as possible. It is unknown whether or not she will attend college, but we can expect great things from this bundle of joy in the years to come. Blue Ivy Carter may not take her place in the entertainment industry, writing lyrics and composing songs like her talented parents. Although recent child prodigies such as Jaden Smith, son of Will Smith have recently surfaced, bringing out their own albums and starring in Hollywood hits such as the new blockbuster "After Earth".
Blue Ivy Carter, we can be sure, will grow up and develop with the love and support of not only her parents, but also with the friendship and guidance of the close family friend Rhianna, aka "Aunty Rih". Blue Ivy Carter has already boarded many planes and yachts, in the ever present company of her doting parents who have admitted telling her every day, that she "can be president, you know it's possible".
With this kind of support available to the beautiful one year old baby, the world really is her oyster, whatever she decides it may entail.
Staff Writer; LadyK
Gossip/Ent. Tips and Feedback to; LadyK@ThyBlackMan.com