Yes, Finding Your Happiness in the Little Things!?
(ThyBlackMan.com) I'm in the thick of writing a book about women and happiness – and lessons seem to appear constantly. Last Wednesday, I was still on a high from my trip to New York – including an appearance on the TODAY Show and quick meetings with fabulous folks at the Dr. Oz Show and Essence. It was a fun, productive dream of a trip. But since it was impromptu (I wasn't booked on TODAY until around 8:30 on Friday night!), I hadn't planned on being out the first two days of the week. People often assume I don't have time for anything other than work. In reality, I am committed to making sure my life is about much more than work.
If it wasn't, I don't think I'd have much inspiration to share with you. But I must admit, it takes a lot of intention to keep a sense of balance between my personal and professional life, especially when work isn't always predictable and deadlines are real. I'm much better at it than I used to be. I don't know what all you have going on, but I bet you can relate! Whether it's your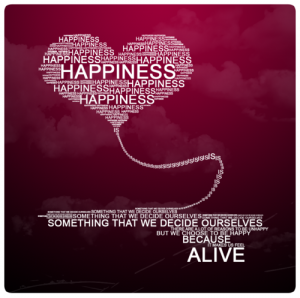 employer expecting you to do more with less, taking care of loved ones, or just trying to figure out when you can squeeze in a workout, it's a challenge getting it all done with grace. Shoot. It's a challenge getting it all done, period.
Each night, I keep a really brief journal – two to three sentences that sum up the most significant moments of that day. It takes about 60 seconds. And it gives me a sense of clarity about what really matters. For example, last Wednesday after getting back from my trip, what I wrote in my journal wasn't about all the phone calls and emails from friends and family about my trip. Instead, it was my excitement over the delivery of a new patio swing for my backyard and meeting one of my best friends, Yvette, at Pier 1 to pick out seat pillows for the swing (which I snagged at a bargain $24, I might add).
When I arrived in the parking lot to meet her, I had emerged just five minutes earlier from a massage that calmed me down from the adrenaline rush of the previous two days. Yvette was wiped out from back-to-back meetings at her job – so much so that she arrived in the parking lot early enough to take nap. I parked. She got out. And we walked like two old ladies on a leisurely stroll to go pick out some pillows. When it occurred to us how slow we were walking, we looked at each other and cracked up.
"It's been quite a week already, huh?" I said.
"Yeah," was all she managed to respond.
We walked in and spent the next 30 minutes deliberating over the benefits of patterns vs. solids, neutral vs. bright. It was simple fun. And a break. Why else did picking out pillows for the swing matter? Because when I think of swinging, I think of my great-grandmother's front porch in South Carolina when I was a kid. Sitting on the porch swing with my cousins, chatting with aunties and uncles, hearing stories about my grandmother pouring sugar down the well on the side of the house to secretly make sugar water (and the subsequent spanking she got!).
I also think of the swing set in my backyard as a little girl on Tyndall Air Force Base in Florida. I would swing for what seemed like hours, looking at the dolphins jumping and playing in the Gulf of Mexico behind our house (yes, military bases have the best property, lol). I wasn't looking for a swing, but when I saw one the other week while shopping, it immediately felt right to get it.
When Yvette and I got to my house, we headed straight to the back patio to tie on the seat pillows. They fit perfectly! "And ooh," Yvette said. "They look nice next to the brick!" We took a swing. Feet dangling and gazing at the trees in front of us, we enjoyed a simple moment of doing nothing.
My point? In the midst of a hectic pace and professional successes, the stuff that holds the most meaning to you is usually connected to people you love and the joyful experiences you've had. As you move to higher levels of success, it is even more important to stay grounded in the simple experiences of life that hold special meaning for you. Don't take a moment with a friend for granted. Or dinner tonight with your family. Or that phone call you've been meaning to make. All the professional and financial success in the world means little if you don't have a meaningful life outside of work.
What about you? What do you do to find balance? What makes it a struggle at times? I want to hear from you, so post your comment and let's get the conversation going.
Challenge:
Do something simple, but meaningful that grounds in what matters most. For example, a heart to heart talk, a walk in the park, or taking a step you've been hesitating to take.
Written by Valorie Burton