A Wife a Rebel Lately?
(ThyBlackMan.com) What is it about the word submit that causes women to cringe? Why is that the part of the Bible that instructs us as women to submit to our husbands is disregarded by us as women? We love the part of the Bible that tells "husbands to honor their wives" but when it comes to our husband being the head of the household, then it becomes an issue.
I fully understand previous circumstances that can make a woman hesitant to submit (i.e formerly under a tyrannical rule, or being violated) but we have to learn how to heal from those situations and move on. Either we accept this way of life in totality or we don't. We can't pick and choose what we will accept especially as it relates to us as women. We are so quick to have a checklist with the Brothers, but can't stand when WE get checked. I was watching "Why Did I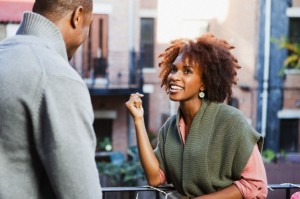 get Married Too" the other night, and in one of the scenes Angela's character was reading the acronym for the word Trust and the "S" was for submit, and she said "I ain't doing that", and that seems to be the attitude of a lot of us as women. 
We just want to be rebellious, for various reasons, and when Brothers see that…….they keep it moving. They don't desire a rebellious wife. You have those that might tell you submission isn't necessary, that it is boring……and to that I would ask them are they in a current relationship and is their man happy? Brothers please correct me if I am wrong, but does it get boring coming home to a submissive loving wife? Is it boring knowing that your authority won't get challenged in your household? Does it get boring knowing that you lead because your wife trusts you? Does it get boring knowing no matter how much this world views you as a ni*** your wife sees  God in you? I mean does being rebellious add "spice" in your marriage or does it add STRIFE? 
I have never heard a brother say……"damn look at that rebellious Sister right there! Oh yeah….she don't know it yet….but that's wifey right there!"
Reflect on the following:
A man wants to be greeted with CONTENTMENT; not CONTENTION

A man wants to be NURTURED; not NAGGED

A Man wants a woman that has mastered the art of FEMININITY; not FEMINISM

A man wants a woman that knows her ROLE; not one that constantly engages in ROLE PLAY

A Man wants a woman that can FEED his SOUL; not DEPLETE his SPIRIT

A Man wants to feel appreciated for his EFFORTS AND ACCOMPLISHMENTS; not reminded of his FAILURES

A Man wants to be asked "HOW CAN I HELP YOU, WHAT DO YOU NEED FROM ME?" Instead of being asked WHY HAVEN'T YOU DONE THIS YET?

A Man wants a woman that is WISE enough to invest in his POTENTIAL and help him get to where he needs to BE; not a woman that is FOOLISH/MATERIALISTIC and disregards him because he hasn't "ARRIVED"
In essence a man wants HEAVEN in his woman…..because it's more than enough HELL for a Black Man out there on those streets.
If you don't think there is power in submission, then please tell me how being "
rebellious
" has worked out for you. Please tell me how playing anything you can do I can do better has worked out for you and your man. Please tell me who won that head-butting match. While you are so busy yelling "
I am woman hear me roar
", read the following: 
"I'd rather dwell with a lion and a dragon, than to keep house with a wicked woman" Ecclesiastics 25:16 
Please tell me how being a rebel secured a loving man for you. Please tell me how refusing to be submissive proved to be a successful strategy in your relationship. Please tell me how he rushes home to greet the rebel that awaits him. A man needs "peace of mind"; please tell me how a rebel gives a man "peace".
In my Kat Williams voice "Don't worry I'll wait."
Staff Writer; Nojma Muhammad
To learn more about this talented sister, feel free to visit; Nojma Reflects.