Whitney Houston, Who got Bobby Brown hooked on drugs?
(ThyBlackMan.com) There has been a lot of speculation about Whitney Houston's alleged drug problems and while no official cause of death has been issued for the popular singer, that is not stopping people from attributing her death to illicit drug use. It will not be surprising when and if Drug War proponents attempt to use her sudden death to promote drug prohibition and it is no surprise that the mainstream media blames a Black man, Bobby Brown for Whitney Houston's troubles. Lets assume for a minute that rumors of out of control drug use by both are true, did anyone stop to ask who got Bobby Brown hooked on drugs?
Both Bobby Brown and Whitney Houston spent a considerable amount of time in two cities, Boston and Newark where the street drug market thrives due largely in part to the so-called War on Drugs and the lack of "legal" economic opportunities in many urban communities. Because drugs are in so many different communities, including affluent gated ones, it would be difficult to say when and where the two may have gotten their first exposure to drugs.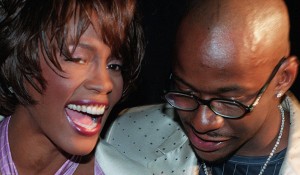 Both would break into the entertainment industry at young ages and it is no secret that drugs are part of the entertainment culture in America. Whitney Houston also had a brief modeling career which is another profession that has a culture of drugs and hard partying. It is curious as to why the corporate media is quick to speculate that Bobby Brown got Houston hooked on drugs but not questioning why two professions known for its drug culture, if  Clive Davis exposed her to drugs.
Record producers and managers have historically been accused of using drugs and other party favors as a way to exploit their artists. Several record companies, including the now defunct Death Row Records have been accused of being involved in drug trafficking. An Internet archive of a 1972 issue of the Anchorage Daily News charged back then that the powerful forces of the recording industry were using money and drugs to bribe disc jockeys to get airplay for their songs. While law enforcement agencies across the country target Black communities with stop and frisk programs, when is the last time you have heard ofHollywood celebrities being stopped and frisked as they walk down red carpets to attend alcohol and drug fueled parties?
It has been revealed that Whitney Houston was using drugs before she met Bobby Brown. Singer Jennifer Holiday in a CNN interview with Pierce Morgan said that there are those people out there that know about Whitney Houston's early drug use but she would leave it up to them to come forward. Do not hold your breath waiting for someone to cop to the deed. With such a revelation clearing Bobby Brown, Whitney Houston did that herself in a televised interview; no one has ever asked who got Bobby Brown hooked on drugs. Actually, we already have the answer. Unless someone started feeding drugs to Whitney Houston and Bobby Brown as children, as we do with Ritalin and other psychotropic drugs, then the responsibility for their alleged drug use has to remain with each individual. Everyone has the ability to say no to drugs. The attacks on Bobby Brown for all his alleged problems, in a broader sense are attacks on Black men and what some claim is an attempt to get Black women to view them as unworthy partners for successful Black women.
Staff Writer; Scotty Reid
To join this brother Black Talk Radio Movement feel free to visit; BT Radio Network.
Also connect via Facebook; Black Talk Fan Page.