Arenas Ducks Prison in Gun Possession Case…
(ThyBlackMan.com) Embattled Washington Wizards guard Gilbert Arenas will serve 3 months in a halfway house for bringing guns to his locker room to scare a teammate.Prosecutors recommended Arenas get three months in jail, but defense attorneys successfully argued that Arenas didn't deserve time in jail for  what he considered a prank.
Arenas may have to wait for a slot to open in a halfway house facility maintained by the District of Columbia.
Arenas, 28, pleaded guilty earlier in the year to violation of the district's gun laws by bringing four guns to the Verizon Center as part of what he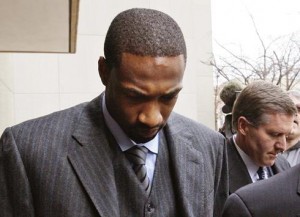 called a prank on teammate Javaris Crittenton. The two were feuding over an unpaid debt from a card game.
As part of the plea deal, prosecutors agreed not to seek more than 6 months in jail for Arenas.
The Los Angeles native, who has drawn fans with clutch game-winning shots and a goofy persona, remains a popular figure in some quarters around the nation's capital. For them, Arenas can do no wrong.
But if Arenas were to start using his brain, he would shut his mouth, serve his time, do some charity work when he gets out and never speak of this stupid episode again if he hopes to play again anytime soon.
He was lucky enough to avoid jail in this case – his second gun conviction in recent years. Arenas would be smart not to get a third strike.
It's bad enough that Arenas has watched his presence virtually erased from the Verizon Center, suspended from the league and imperiled the remaining millions on his 6-year, $111-million Wizards contract.
Arenas' gun stunt has crippled his team. The Wizards were forced in to rebuild mode and traded its two best players, Antawn Jamison and Caron Butler, when Arenas blew the season to bits with his gun games.
Now it will be up to proposed new owner of the team, Ted Leonsis, to decide if Arenas has a future with the Wizards. He probably does, because it will be near impossible to find an NBA team willing to take on Arenas and his bloated contract.
Watching young athletes squander their gifts through selfishness and stupidity is getting old.
Written By Paul Shepard