Five Ways to Better Manage Working From Home.
(ThyBlackMan.com) For someone that has to get up early every morning, find something to wear, and race to battle morning traffic working from home sounds like heaven. Its rather easy to highlight the perceived assets: sleeping in, working on your own time, being able to get other things in your life and home done, working in your pajamas, taking a few naps if necessary, and eating when you feel like it. These perks sound amazing and a bit too good to be true because they are. Working from home does give you quite a bit of latitude in how you get things done, but if you lose yourself in what is perceived as working from home you might not get much done in any area. Though you are at home you still have to get up at a decent time, you don't get to nap on a whim, you may find it useful mentally to put on clothes, and it is very easy for the work and home areas to collide. Working from home requires organization many take for granted when working on a job site. If one is not careful, they will find themselves more stressed out at home than they were on sight. There are five things you can do to make your work from home experience productive, and pleasant.
1. Plan your time. It is very important to know how your day is going to run and put yourself on a routine. Yes, that means it would be wise to set a time to get up in the morning, and set a time for when you will start working, take breaks, eat lunch, and when you will wrap the work up for the day. This will allow you to gauge the amount of time you need to be productive and plan around that space.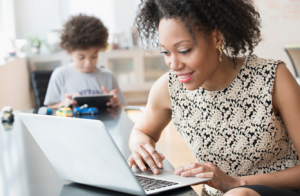 2. Get up and get dressed. You can stay in your pajamas all day if you like, but that does not foster a productive attitude. You don't have to adhere to a work dress code but get yourself together so that you can be of an attitude to get your work done. This can help you prevent sleeping when you have to be working.
3. Separate your work time from home time. If it is feasible consider working in the morning, then tending to the needs of your house or vice versa. Of course, everyday won't be perfect, and things happen but you'd want to try to keep these spaces as separate as possible. If these to spaces get muddy together you will find yourself stressed trying to get work done and home taken care of while failing on both ends.
4. Put the phone down. If you were on a job site, you can't answer everyone all day long. In stricter settings you can't scroll through social media all day. Give yourself those same restrictions so that you can get your work done in a timely fashion. Example, I have myself scheduled to work until noon. Granted some days I work later, as with any job, but on average I'm trying to walk away from my computer at noon. If there is a conversation that needs to be had call after 12 noon. If I want to entertain social media the goal is to do so in the afternoon. Even though you are working from home focus is still required.
5. Prepare for the push-back. When you say "I work from home" people tend to believe that means you can get up and go at any time. They can invite themselves to your time and feel entitled regarding such. There is nothing wrong with you for wanting to have better organization and discipline in your life so that you are better able to be productive. Refuse to apologize for having structure in your life.
Working from home has excellent benefits and in some ways,  money can be saved. However, there is still work to do, and more so because you are at home. You are expected to manage your home while working every day. Put yourself in the best mindset and position to be successful. This will require you to be a bit more realistic regarding the perks of working from home. With some organization and diligence to said order you can get so much done without wearing yourself thin.
Staff Writer; Christian Starr
May connect with this sister over at Facebook; https://www.facebook.com/christian.pierre.9809 and also Twitter; http://twitter.com/MrzZeta.