Samsung Galaxy Gear S3 Watch – Taking Smartwatch to the Next Level.
(ThyBlackMan.com) There are many smartwatches available in the market today. Packed with smart features, people are now preferring smartwatch over traditional watches. Samsung Galaxy Gear S3 Watch is big, bold, and is packed with great features. This smartwatch by Samsung is a great match to that of the Apple Watch.
The price is a bit on the higher end but you will surely get your money's worth. If you are still thinking twice about buying a Samsung Galaxy Gear S3 Watch, then this article is for you. Below are the reasons why this watch is taking smartwatch into the next level.
It comes with a GPS feature
It can monitor heart rate
It is water-resistant
It comes with activity tracking feature
It has an altimeter
It has LTE features
NFC
It has a great and sporty display
The battery is long lasting (380mAh)
Its operating system is Tizen and the screen type is super amoled, which makes it scratch-free and resistant to friction.
 The key selling points
Samsung Galaxy Gear S3 Watch is compatible with the latest Samsung phones. It is one of the selling points of this watch. As a matter of fact, it is not just compatible with Samsung phones; it is also compatible with other Android phones, specifically version 4.4 of the operating system.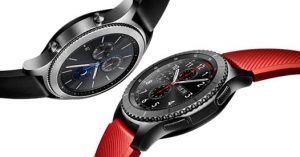 Samsung also supports iOS devices such as iPhone 5 and the rest provided they are running at least iOS 9 software. This simply goes to show that Samsung Galaxy Gear S3 Watch will work with your current phone. If you don't like the big design of this watch, then don't worry as it also comes with a smaller design but you will get the same features.
If you are not a fan of a smartwatch, then now is the perfect time to try one. This watch may not be your first choice, especially if you are used to wearing the traditional watch. However, with how the technology is heading today, it is an advantage to you if you wear a smartwatch. There are plenty of smartwatches to choose from and most of them are expensive.
If you want to get the best value for your hard-earned money, then you should choose watches from Samsung. They are only packed with great features but also sturdy and is built to suit your taste. It is truly a must-have watch for every tech-savvy individual.
Staff Writer; James Washington