Spiritual Christians Flock From All Around the World at the Healing School in Lagos, Nigeria to see Pastor Chris Oyakhilome.
(ThyBlackMan.com) In Lagos, Nigeria, thousands of people arrive at what is known in the community as the "Healing School of Christ Embassy" to see a man known as Pastor Chris or Reverand Dr. Chris Oyakhilome.
Reverend Dr. Chris Oyakhilome is the President of Believers' LoveWorld Inc. and of Christ Embassy. He is a pastor, teacher, healing minister, television host of a show called "Pastor Chris Teaching" that airs in the UK, Africa, the US, and on radio shows around the world. He is also a best-selling author of the book "Rhapsody of Realities", which is considered the world's number one daily devotional Christain book. It is distributed on a monthly basis throughout the entire world, translated to over 800 languages, and has sold over a billion copies worldwide. His ministry teachings involving Christianity are available to buy in all audio and video forms. He holds regular 'healing' and teaching events in a number of cities and different nations around the world, like his Higher Life Conference and a gathering called the Night of Bliss.
Visitors from all around the world have come to observe and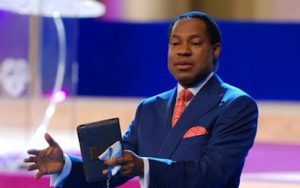 experience Rev Dr. Chris Oyakhilome for what many have said are his 'healing powers' in the 2018 Healing School August Session, hosted in Lagos. Pastor Chris, as he is known by close friends and the community, has been attempting to heal the folks who come to him seeking a cure for their problems for over 30 years. His attempts have been very successful if you were to ask one of his millions of devoted followers.
Over the years, many people have claimed that they have been cured at the Healing School by Pastor Chris, for all sorts of different ailments, from HIV, diabetes, severe migraines, to heart conditions, cancer, and even more infirmities.
Men, women, and children from every tribe in Lagos, and from continents around the world, gather at the Healing School in the hopes that Reverend Dr. Chris Oyakhilome will use his strong faith in God in conjunction with theirs to bring forth some form of positive enhancement to their individual lives. They may be seeking a cure for their pain, be it physical or mental, or a cure for a disease that's ailing them.
Also at the Healing School of Christ Ministry today, are devout followers that have attested to have been healed by Pastor Chris in the past. Their own personal, confident & emotional declarations of healing through Pastor Chris' healing powers in the name of God have brought with them all of these new believers today. Professional football player, Prince Enefiok, is one of these most talked about testimonies. Prince Enefiok was rendered unable to play football or any other strenuous physical activity after a serious motor accident. According to Enefiok, after he went to the Healing School and met with Rev Chris Oyakhilome, he was healed and his ability to play football returned.
There are a few requirements that the audience has had to meet in order to be able to attend this August 2018 Healing School gathering. Those requirements include proof of illness, visa aid, and some form of currency. Their visas were obtained through a 'letter of invitation". The currency they carried being either Nigerian Naira, the main currency used in Nigeria, or another foreign currency that they were able to exchange at the airport on location.
Staff Writer; Craig Love