Everything You Need To Know About SD Memory Cards.
(ThyBlackMan.com) An SD memory card is used as a device to get an extra storage space inside a mobile phone or a tablet. It stands for Secure Digital Card which is considered to be a non-volatile memory card that was produced by the (SDA) SD Card Association, to be used in various portable devices. If you are an individual who requires an extra 36GB of storage without having to use any kind of wires to plug in your phone, then you can have an SD memory card inserted in your phone. 
Or if your digital camera is a new one, that stores images on SD memory cards, then you may require to upload them on your system before the storage gets full. However, the biggest decision an individual is supposed to make while buying an SD card is the speed and storage capacity of it. This means that the storage capacity is the main and understandable factor as it allows you to store more stuff in it without having any effect on its speed. Or, you can also make sure to buy a card with good and enough speed and storage capacity. 
Before discussing the features involving capacity and storage in an SD card, let's look back on why and how they were first created. 
History and Production Of SD Memory Cards
The first standard of an SD card was developed in the year 1999 by the combined efforts and involvement of Panasonic, Toshiba, and SanDisk companies. It was an improved version of the Multimedia Cards that were supposedly the standard of the industry at those times. These three organizations established SD-3C along with the SD Association which is a non-profit organization that upgrades and produces the standards of SD cards. The SDA has been doing it since the beginning. It is a global ecosystem of various companies that are focusing on simplifying the use of consumer electronics such as mobile phone devices.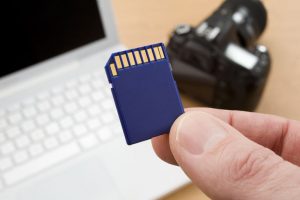 Today, the SD Association has about 1,000 member companies that use various logos as trademarks that are associated and owned by the SD-3C. Along with that, they make interoperable memory cards and devices. It encourages better compliance of SD cards along with proper features and specifications to ensure that it is compatible for people to use. The early samples that were created of SD cards had 32 MB and 64 MB storage capacity in them. 
Furthermore, it was potentially developed to compete with the flash memory card format known as a memory stick, and the digital right management product (DRM). Both of these were developed by Sony Corporations. The digital rights management product was used as a protection of copyrighted work and prevent all the digital copies to be shared over the networks of computers and telecommunications.
After the development of SD cards in 1999, they were officially announced by all three companies in the year 2000 at the Consumer Electronics trade show. 
SD Card Standards and Capacity 
The SD standards have been very successful and have deliberately increased the production of various devices, services, and application software. The SDA ensures to provide better and convenient systems in order to communicate the usage and features of different SD standard types and their sizes for host devices.  
Furthermore, the universal definition of an SD card is a device that is removable, non-volatile and carries the memory with several features and capabilities. There are various types of SD card standards that include SDIO, SDHC, SDXC, and SDUC. Moreover, their classification and specification vary from each other but similar ones include the category of content security features that enables the card to be used for content while protecting audio, video and books.   
The SD cards include five standards. These five standards have three forms of sizes that are the original size, mini size, and micro size. These five standards are:
SDSC Standard Capacity

SDHC Standard High-Capacity

SDXC The Extended Capacity

SDUC Ultra-Capacity

SDIO Input-Output Functions and Data Storage
The mini size and micro size are discussed below.
Mini Cards
The miniSD card is also used to store information and media files and is considered one of the types of flash storage cards. These cards were introduced in 2003, and are 21.5 x 20 x 1.4 mm which generally provides the storage capacity for about 16 to 256 MB. However, they are of the same size as the regular SD card along with having similar features and performance.  
Moreover, mini cards are small forms of factor extensions of the SD card standards. The miniSD card has the potential to provide compatibility in the same SD memory card slot of the mobile phone incorporated as a miniSD adapter. 
The MicroSD card
microSD cards are the ones that are mostly used in cell phones and smartphones in the SD memory card slot. They are considered to be the smallest size of an SD card standard with measurement around 15 x 11 x 1 mm which generally weighs 0.25 grams. These cards consist of storage capacity from sizes between 4 GB to 64 GB  Other than mobile phones, they are also used in tablets. 
Moreover, the larger ones or microSD cards are the microSDXC memory cards which are sold in sizes between 8 GB to 512 GB. The final specification of a microSD card was introduced by SDA in 2005. 
The Speed Of An SD Card
The speed of an SD card is generally rated by the sequential read and write categorization. The performance that takes place sequentially has an aspect of being the relevant one for storing and retrieving larger files such as various types of multimedia and images. Other than that, the small data and files such as contacts, maps, sizes do not affect the speed limit of the card. 
If you want to buy sd cards in bulk or you're looking for some bulk USB drives online wholesalers then make sure to check out Everything But Stromboli that offers various kinds of SD memory cards in different specifications and at affordable prices.  
Staff Writer; Brad Brown