5 Unusual Ways to Earn Money Online.
(ThyBlackMan.com) Earning money online is now a trend for most people – whether they just want some side hustles or desire to start working from home. Jobs such as freelance writing, blogging, and creating web logos and designs are some of the common things that can be done to make money online. But there are a lot of ways other than these. If you think you aren't skillful enough or want to earn a few dollars with less hassle, here are some of the unusual ways you want to try to earn money online:
Walking
Apps such as Sweatcoins and Gigwalk pays you for just walking. Every step is being tracks through your phone's GPS and built-in accelerometers. These are then converted into coins or points that can be redeemed through Paypal or get exchanged with goods or services. 
Put Ads on Your Lockscreen
When you find yourself get annoyed by your phone getting locked every now and then, you can instead put ads on the lock screen of your iPhone or smartphone that can be converted to points. Apps like Slidejoy can provide you with cash-like rewards by simply unlocking your screen. Advertisers pay these apps for featuring their brands, which, in return, gives you a portion of it by simply downloading the app and allowing it to be put on your lockscreen.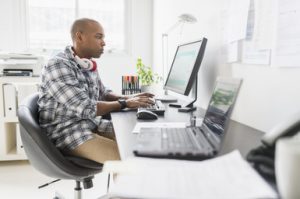 Lose Weight
Another way to earn money online is to get paid by losing weight. Mobile apps like HealthyWage and DietBet will surely motivate you to get fit and lose weight. Users can even win up to $10,000 when they reach their weight loss goal. These apps also have a feature where you can join a team challenge and encourage each other on your weight loss journey. 
Sell your hair
While many people, especially women, spends a lot of money in going to salons for a simple haircut, you can earn some extra dollars by selling your hair online. Platforms such as HairSellOn has a unique tool to estimate and convert the value of your hair. It is checked according to length (in inches), thickness, hair color, and hair condition. The lesser it was exposed to chemicals, the greater the value it gets. The hair that has been sold is then used for creating wigs and hair extensions. 
Take Selfies
If you love taking selfies, and have lots of photos saved on your gallery, you can make money from it by selling photos of yourself to mobile apps like Pay Your Selfie. This app will give you some tasks in which you can earn from 20 cents to $1 once a task is done. The rate may be a bit low but for those of you who are just fond of taking photos of themselves, it is still worth a try!
Bonus Tip
While there are a lot of ways to earn money online, it is still important for you to stay vigilant around the internet. Never ever give personal data to unknown sources and check for site reviews before proceeding to download any mobile app or computer software. If possible, use a separate email address for your side hustles. Remember that your safety is always more important than a few dollars.
Staff Writer; Ellie Carter