Colin Kaepernick is truly in a league of his own.
(ThyBlackMan.com) We are over halfway done with the NFL's regular season as most NFL teams have played 10 games. It is hard to believe that the most significant news that the National Football League would be consumed with last week would be two off-field matters, the brutal fight between the Pittsburgh Steelers and Cleveland Browns and the Colin Kaepernick workout that was organized by the NFL. The actions of Browns defensive end Myles Garrett are still being debated and Colin Kaepernick remains one of the biggest lightning rods in recent sports history. It is still unlikely that sports fans will see Kaepernick signed by a NFL team but it is clear that he has etched his name into the history books during the NFL's 100th season.
There is no free agent in all of sports who is more well-known than Colin Kaepernick. Because of his protest, words, and actions regarding police brutality against black people, he has become a cult figure in the blending of sports and social issues. Although he has not played since the 2016 NFL season, his name has still been occasionally brought up when NFL teams lose a starting quarterback due to injury but his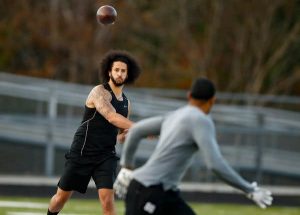 lawsuit against the National Football League and being the originator of NFL players protesting during the national anthem have made his chances of being signed by a NFL team extremely unlikely. There was very little sports news last week that was as shocking than the NFL proposing, sanctioning, and organizing a private workout exclusively for Colin Kaepernick on Saturday, November 16th at the Atlanta Falcons.
On the surface, detractors of Colin Kaepernick would be look at the NFL's workout for Kaepernick as evidence that he isn't being blackballed but there are some things worth noting. Kaepernick did not know this workout was coming as the NFL reached out to Kaepernick's agent last Tuesday and told him the league would be circulating a memo to all 32 teams at 4 p.m. ET announcing the plans for the workout. The workout being held on a Saturday was very unusual because Tuesdays are when most in-season player workouts are conducted. The strange nature of the workout led Kaepernick's friend Eric Reid, to consider the entire thing a publicity stunt.
On Saturday, November 17, the Colin Kaepernick workout did happen but with some changes due to Kaepernick, as his camp moved the workout from the Atlanta Falcons' facility to Charles Drew High School in Riverdale, Georgia an hour later. One of the biggest reasons for the change was that the NFL banned media from the event and Kaepernick wanted media there for transparency reasons. Understandably, it was important for him to have media there as a third party to evaluate his performance beyond NFL teams, who might be inclined to dismiss his workout through word of mouth. It was not surprising that protesters of Kaepernick were at the the Falcons' facility but were reportedly outnumbered by Kaepernick supporters. The most of the events unraveled on social media including a NFL statement that read that they were, "disappointed that Colin did not appear for his workout". Eight NFL teams sent representatives to the workout at the high school while Colin Kaepernick had a session that has been described as "solid". The entire situation has been weird but also proof that no current NFL player can move the needle like Colin Kaepernick can as a NFL free agent.
Staff Writer; Mark Hines