We Still Need the Black Church.
(ThyBlackMan.com) We live in a society that screams to the top of its lungs that it doesn't want to be labeled, yet generalization runs rampant. It is amazing how quickly the massiveness of a thing can be minimalized to a hand full of experiences. Many black folks can sit down and tell crazy stories about church. Everyone knows a crooked pastor, messy choir director, judgmental church mother, bougie first lady, or inappropriate deacon. These characters have become the butt of many jokes within black community, and they are also the justification by which some of our feel it necessary to write off the black church as waste of time. Some even go as far as feeling it no longer has a viable place in black community. Those that feel this way are often able to acknowledge the role the black church has played in our movements for freedom but argue that it has lost its purpose.
In all honesty there are churches that have questionable leadership and practices. However, we must acknowledge this isn't a black thing…it's a people thing. Furthermore, it's time we admit that this view on church is not every church…nor the majority. Our community needs the church now more than ever; for many of us it's the only order and family we know.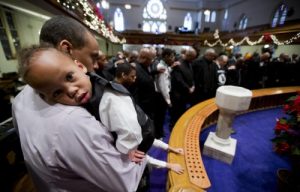 The black church is still helping take care of our community. We must let go of the generalization that church just once to steal our money, exclude alternative lifestyles, and condemn everyone in the Pew. The majority of churches are not broadcasting what they're doing in their communities every day. However, they are making sure their members have food, someone to stand with them when hardship comes, they are helping to raise our children and send them the college. Some churches are still and the civil rights fight. They are questioning leadership, they are helping the community get to the voting polls, and they are speaking against injustice in the pulpit and on the streets. We cannot discount the work of the black church because many of them will still require respect in order. We need to know that there is someone that will tell us we're wrong though the world says speak your truth. How can we learn and grow I there is no one to help us along our path? This is not about condemnation; I am talking about having a community hold us accountable to become a more compassionate, and not lose our grounding as we achieve to new heights.
Too many of us have been fed by the church mother, encouraged by the first lady, bailed out by the pastor, and mentored by the deacon. Sometimes these very people were helping to raise us while our parents go themselves together. Some of these very people protected us when family was outside of their minds. We must be mindful that we are living in a society that does not value family, elders, accountability, nor spirituality. As a people we need all of these things, and the black church plays a part in helping us stay grounded. No, every church is not good.
There are some churches and pastors that have taken advantage of their positions, manipulated their congregations and abused them as well. With that being acknowledged please don't allow that to discredit every church. If we do that, we are no better than people that discredit black folks as a whole because they ran into few black people that were not good. We need all the help we can get as we fight for rights, our communities, and our children. The black church is a part of the team that guards and cares for community.
Staff Writer; Christian Starr
May connect with this sister over at Facebook; https://www.facebook.com/christian.pierre.9809 and also Twitter; http://twitter.com/MrzZeta.