Find the Best Online Holiday Shopping Discounts.
(ThyBlackMan.com) When the holiday season begins, retailers entice consumers with exciting new products and displays. It  is tempting to purchase gifts spontaneously when you see them on store shelves. You can, however, get through the holiday without ruining your budget. You can find many deals without ever leaving your home. Search online sales, compare stores, and get coupon codes.
Sales
You may notice advertisements from local retailers for items on your gift list. It is important to compare prices, however. Many items are available from several different stores. You can compare prices online to find the best one. Even if the item you want is not on sale, search through the sale items. You may find something else the person can enjoy at an affordable price.
Coupon Codes
You can find savings in only a few minutes when you look on coupon and promo code sites. You search for your favorite items by brand-name or search for specific retailers. A coupon site such as CouponDad.net can help you make everyone on your list happy.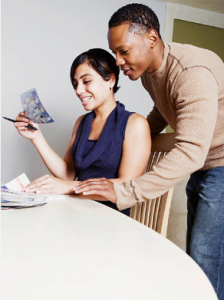 You can find printable coupons and digital codes on these sites. Before you pay for your order from any store, check the coupon site. Coupon sites often have customer reviews about each coupon or code, as well. This helps you find codes that others have used successfully.
Contact Customer Service
Sometimes companies give discounts to keep consumers happy. If there is a special item you want to purchase that never seems to go on sale, reach out to customer service. Most retail websites have a contact form you can fill out. Most companies strive to keep their customers happy. You may get a personal discount code, or they may finally put the item on sale. If you plan to purchase a large amount of the same item, they may also respond with a discount offer.
Price Match
Many stores have a price match policy. If you find the item for less somewhere else, ask for your favorite retailer to match the price. This is helpful when you want to purchase several items at one store, but only want to check out once. You can search online before you visit a store to find the best price on your favorite items. Print out evidence of the lower price or bookmark it on your phone. Show this to the cashier when you are ready to pay.
Holiday shopping does not have to cause financial stress. Take the time to look for your discounts at online coupon sites and on retail sites. You can also change your gift ideas to match the sales. Look through sale items or coupon codes to find gifts that work for your favorite people. With a little research and flexibility, you can stick to a budget. If you must have a certain product, but can't find a discount, contact the store. Sometimes retailers offer discounts or coupons when you ask. Instead of worrying about the perfect gifts, look for discounts on exciting items.
Staff Writer; Carl Hall