6 Thoughtful Extras To Consider For Your Bridal Party.
(ThyBlackMan.com) A memorable and successful wedding is the result of help from many people and on the bride's side that starts with her bridal party. Although the big day is about the bride herself she has chosen to share it with the important people that make up her bridal party and it's those little extra touches that are implemented along the way that can make the whole experience even more special. So here are 6 thoughtful extras you may want to gift your bridal party. 
1. Monogrammed weekend bags
A monogrammed weekend bag is the perfect way to start a hen-do or bridal getaway and is a lovely way to keep everyone's luggage together whilst maintaining a little individuality through the use of each person's custom initials. If you have a colour theme for your wedding then the bags can be created to reflect it and they will be a beautiful keepsake that your bridal party can use for years to come
2. Robes for your bridesmaids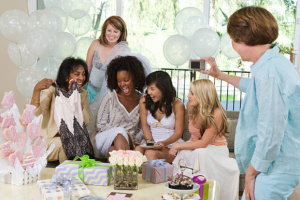 Robes for bridesmaids must be one of the biggest bridal trends of 2019.  More than just a pretty accessory, bridal robes come in very handy for lounging around in during the hen party and make for very cute bridal photos and they are also great to wear on the morning of the big day itself when everyone is having their hair and makeup done before putting on their dresses.
3. Personalised makeup bags
Everyone will want to be looking their best for the big day and a personalised monogrammed makeup bag in your wedding colours is the perfect way for them to store their makeup for those last-minute touch-ups. If you want to go one further you can even fill the bags with makeup that reflects the look of your wedding, or for an alternative filling why not pop in a few wedding essentials such as a packet of tissue for runaway tears and some sweets.
4. Personalised wedding hangers
The only thing that looks better than bridal party gowns all hanging up next to one another is bridal gowns all hanging on personalised hangers. This simple extra not only helps everyone to find their dress when its time for the final preparations but it also provides a beautiful keepsake that each person can keep their wedding garment on for years to come.
5. Instant cameras
Some of the best candid wedding moments are captured on instant cameras so give one to each of your bridal party and ask them to snap away as the day progresses. You'll get some lovely intimate moments that you can all cherish forever.
6. A spa hamper
Weddings take a lot of planning and effort and after the big day, everyone is likely going to be in need of a little rest and relaxation. A nice little post-wedding item to give to your bridal party is a little spa hamper filled with some paper favourites such as a body scrub, face mask, hand cream and body butter. A really nice touch is to have this sent to their room while the wedding itself is on so that they come up to it at the end of the evening.
Staff Writer; Ricky Jacobs