Where to Shop for School Uniforms.
(ThyBlackMan.com) School uniforms are often an unpopular subject among kids and some adults. Many believe uniforms inhibit a child's self-expression while others advocate that it takes a large amount of social pressure off of the child to always dress in the latest styles. Whether you are in favor of or opposed to student uniforms, many schools (both private and public) are making it a requirement.
If your school has recently updated i's dress code policy and you're not quite sure where to find affordable uniforms, you're in luck. Many of the popular retailers you shop at offer school uniforms year-round online. We found a number of stores that offer budget friendly prices, a nice range of sizes, and good amount of uniform choices.
JCPenney
This department store was founded over 100 years ago and has outfitted American homes for decades. Whether you're looking for home furniture, clothing, shoes, or accessories, JCPenney has you covered.
Visit jcpenny.com and simply enter in 'school uniforms' in the search bar located at the top of the homepage.  Choose from a wide variety of pants, shirts, skirts, and shorts for both girls and boys. Not only can you purchase items that will meet your school's dress code, you will get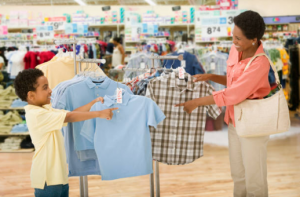 them at a great price. JCPenney frequently runs sales and promotions that help you score those name brands you love, at prices that will keep your wallet happy. Filter their selection by age group, size, color, and even customer rating. It's easy to find what you need on JCP.
Old Navy
This brand grew so popular it's now in the process of becoming its own entity outside of the GAP family of brands. Old Navy has become a go-to store to find stylish, affordable clothing options for the whole family.
You can find uniform basics at Old Navy for kids as well as adults. Their selection isn't as vast as other retailers, but you rely on them for comfortable polos and khakis. What's more, you can complete your kids back to school ensemble with some canvas sneakers or ballet flats. For ultimate savings, see if there's a promo code you can use during checkout on the Old Navy homepage or combine the Super Cash you've earned along with that Old Navy gift card you got for your birthday.
Target
Is it just me, or do you always seem to leave with more items in your cart than what you originally planned when shopping at Target?  With good intentions you visit Target looking to pick up one or two items and then next thing you know, your order total comes to $100.  With good prices on household items, beauty & wellness products, home décor, toys, and more, this discount retailer combines style and savings across departments.
Your child can wear their school colors with pride when you shop cardigans, polo shirt multi-packs, tights, undershirts, and jumpers at Target. If the school allows, add some flair to their school wardrobe with brightly colored and ornate headbands, backpacks, bowties, and belts. Find sizes from 2t onward in slim and husky and plus styles to ensure the perfect fit.
Burlington
Burlington has come a long way since their beginning as primarily an outerwear store. At Burlington, you don't have to wait for a holiday sale or promotion to get the best price on brand name items. Every day you can save up to 60% off clothing, shoes, luggage, and home goods.
Visit the School Uniform Shop on Burlington.com and load up your cart with pants, dresses, shirts, sweaters and more.  They offer pages full of apparel for both boys and girls. Find exactly what you're looking for when you filter by brand, size, or color. If you see an item you like, you better act fast! Due to their terrific prices, their online inventory sells quick. Considering you get free shipping when you buy $75 or more, you can really stock up your kids' dresser for a whole lot less.
Even though school has been in session for a few months now, kids can always use a new pair of pants or shirt due to changes in the season, a growth spurt, or general wear and tear (let's be honest, kids are messy).  Shop at any of these retailers for school uniform essentials.
Staff Writer; Robert Jackson