What to do When You're Bored in Retirement.
(ThyBlackMan.com) Retirement is a time most Americans look forward to. After many years of working hard in your career, it's finally time for you to kick your feet up and enjoy a little time to yourself for once. But if you like to maintain a busy lifestyle, you'll want to have a plan in place so that you can make the most out of your sunset years and not wind up feeling lost or alone during some of the best times in your life.
Next to saving for retirement, figuring out what to do after you've said farewell to your nine to five is one of the biggest retirement concerns. But never fear, soon-to-be retirees: we've got you covered. If you're looking for hobbies and other ideas to help you fill up your free schedule, read on to learn what to do when you're bored in retirement.
Just relax
If you're a self-described workaholic, it might be hard for you to imagine yourself taking a break from your busy schedule, but this time is all about you, so don't be afraid to indulge in a bit of R&R. Consider taking up a relaxing hobby like yoga or meditation, or maybe treat yourself to a massage membership or a spa day to celebrate this milestone.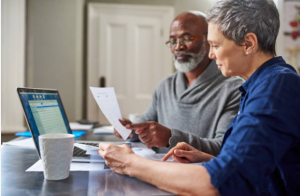 Learn a new skill
One of the best ways to keep your mind active during retirement is by picking up a new hobby or skill. There are plenty of ways you can do this, whether it's signing up for classes at a local college or learning online. Here are some ideas of new skills to get you inspired.
Learn a foreign language: Use a self-guided language learning platform so that you can practice the language of your choice on your time. Once you refine your conversational skills, you could even reward yourself by booking a trip to the country where they speak that language!
Take up creative writing: Writing is a great way to express yourself and activate the mind. Try taking a creative writing class or just give it a go. From poems to short stories and songs, there are plenty of directions you can go with the written word.
Get creative
If you've ever wanted to use arts and crafts to express yourself, retirement is one of the best times to do it! It can be as simple as heading to your local craft store and picking up supplies or as committed as learning the tricks of the trade by watching online classes. The best part about retirement is that it's what you make it.
Build a social network
For many people, work not only functions as a source of income but also a social network. When you sacrifice that safety net of colleagues and customers, retirement can tend to get pretty lonely, especially if your partner is still in the workforce. That's why it's essential to build connections with other retirees and members of your community in general.
Here are some ways you can do it:
Join your local community center
Participate in group fitness classes
Find a part-time job
Start a club
No matter where your interests lie, make it a habit to talk to people when you retire! Whether you're at the grocery store, on a walk, or at a social event. After all, you probably won't make too many close friends if you're close-minded.
Donate your time
Another great way to make strong connections in your community is by volunteering with a local charity. There are tons of volunteer opportunities out there, and the best part is, you're helping others, too!
If you're not sure where to begin your search, start by thinking about your own interests. Do you love animals? Maybe lending your time to a local animal shelter or zoo would be the right fit for you. Or maybe you're excellent with technology and would love to teach seniors computer skills. Wherever your interests and talents lie, you're sure to find some way to help others while also helping yourself!
Final thoughts
Retirement can really be as fun as you make it! While this can feel challenging at times, there are tons of opportunities for you to make the most out of your sunset years—just use this list for inspiration!
Staff Writer; Peter Jones