How to Get Started with Dropshipping on Amazon.
(ThyBlackMan.com) Setting up an Amazon store is one of the best steps a company can take to sell on the largest e-commerce site available. It's also a fantastic way to start a business without any experience. And, you can do it all in about 24 hours.
Sounds like a far-fetched process? It does not have to be if you use the tools that Amazon provides to make it easy for you. There is some downtime in between several of the steps, so it can take longer than a day. Yet, it does not have to take a lot of work to get you to that point.
In order to establish your business quickly on the site, you need to use the tools the company provides. A component of that is dropshipping. The more ways you can outsource processes to the company, the less hands-on work you have to do to sell. Let's explore how to get started.
What Is Dropshipping from an Amazon Point-of-View?
If you own an e-commerce store of any type, you probably would use dropshipping as a component of that process. You list products on your website, but you do not actually own any inventory yourself. When a customer buys from you, you pass the order on to the supplier, and then the supplier will ship the order to the consumer. This model works very well on Amazon, who works as the dropshipper for you.
Amazon does make it a bit complex, though. Amazon's terms state that purchasing a product from an online retailer and then having that retailer ship to the customer is not allowed. So, what do you do?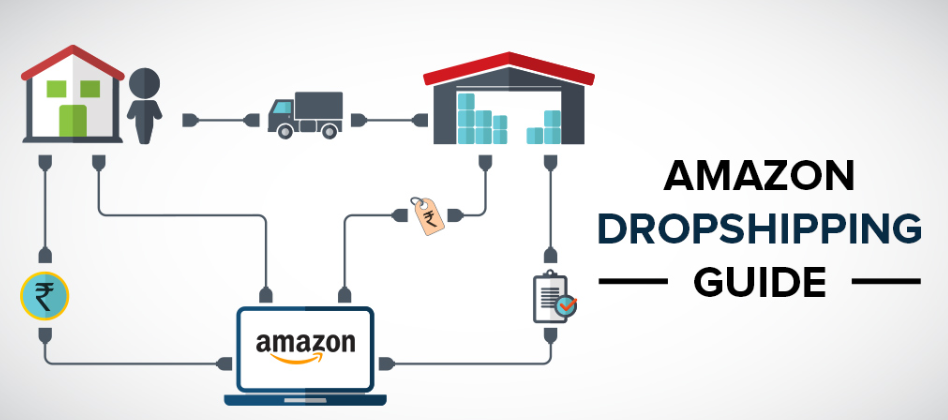 You can use a different model – such as buying from a retailer and then having another company fill the orders for you. That does make the process a bit more hectic, though. Instead, you'll want to turn to Amazon for the help you need.
How Amazon Helps with Dropshipping
Amazon works to cut out some of the frustration of the process through Fulfillment by Amazon, or FBA. It is a bit different than what the traditional dropshipping model is, though. Still, it enables you to operate without having to manage an inventory by yourself.
Instead, Amazon does most of the work for you through the FBA service. This includes
Storing your inventory

Picking and packing your items

Shipping your items

Providing tracking information to consumers

Even managing customer service needs
There are fees for using this service, but it can be very affordable when you consider the potential for success on Amazon for your product.
Why Should You Use FBA?
There are dozens of methods to sell a product to a consumer, but FBA is one of the best options for people who want an Amazon business but do not want to manage inventory in the process. It offers key benefits such as:
Allowing smaller companies, even startups, to compete on the e-commerce site
It reduces your outside costs

It allows you to tap into Amazon's Prime customer base

Customers trust FBA – and some even look for it – before making a purchase

It eliminates your need to manage inventory
Today's consumer wants a product fast. To get it, they are often seeking out the Prime offer – the best way to get something delivered in a day. In most situations, if a customer can choose a seller with Prime access, they are going to go that route because it costs them nothing more (if they are a member) and it provides them with easy access, fast delivery, and good customer service.
How Can You Get started with Dropshipping on Amazon, Then?
Now that you know how to use Amazon's FBA service to set up a business that operates much like dropshipping, you need to know how to do it. Here's how to get started. Let's be frank here – this process can be somewhat complex. That is why so many companies turn to Amazon consulting services to get the type of support they need (and to get this set up faster).
Find Your Supplier
The first step is to find a dropship supplier. There are plenty of them such as SaleHoo and AliExpress. Take the time to choose a supplier that you can verify is legitimate and offers the type of product that you want to sell.
Set Up Your Amazon Store
The next step is to set up your Amazon store, which is where you will sell your product on the site. There are several types of accounts to set up and you will need to be approved to do so. This can take some time. In some cases, you need to get the product category approved. Once you do this, you can move on with the process.
List Your Products
You can now list your products on the site. There are specific rules to follow and you do need to provide your customers with as much information as they can get to ensure they want to buy. You also want to ensure that the product listing pages are optimized.
Get Your Product to the Warehouse
A component of the dropshipping relationship with a supplier is that they will ship the product to Amazon's warehouses. Then, the product will be shipped from the warehouse to the customer when there is an order placed. This is all done for you rather easily if you are working with the right company.
Market Your Product
You will need to market your products on the site at this point. The process requires spending a good amount of time learning how to optimize your listings and then using ads to get your product in front of the right customers. This is another time when having Amazon consulting services really pays off for you.
Dropshipping on Amazon is a possibility and a big opportunity. Are you ready to make this your business model? If so, turn to Nuanced Media to learn more about our Amazon consulting services and get your business model set up. 
Staff Writer; Gary Moore