The impact of the Fair Pay to Play Act.
(ThyBlackMan.com) College sports could be potentially changed forever. Earlier this week, California Governor Gavin Newsom signed into law a measure that allows players to receive endorsement deals and means that colleges in California cannot punish student-athletes for collecting endorsement money and profit off their name, image and likeness. As most sports fans know, college athletes cannot receive money from jersey and ticket sales and are not paid money for playing collegiate sports due to the rules of the governing body of college sports, the National Collegiate Athletic Association, more commonly known as the NCAA. Of course, the NCAA is fighting back against this new law even though it would not be enacted until 2023 and consider it unconstitutional. This law has gotten the ball rolling in a major change in the future of college sports.
Gavin Newsom, the Democratic Governor from the state of California, signed the bill on LeBron James' multimedia platform, The Uninterrupted. Even though James never attended college, he has been vocal over the years about college athletes being able to earn money using their likeness. The bill that Newsom signed was introduced by California State Senator Nancy Skinner earlier this year and is called Senate Bill 206, also known as the Fair Pay to Play Act.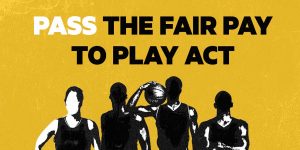 The bill, "would prohibit the revocation of a student's scholarship as a result of earning compensation or obtaining legal representation as authorized under these provisions" and it "require the working group to review various athletic association bylaws and state and federal laws regarding a college athlete's use of the athlete's name, image, and likeness for compensation and, on or before July 1, 2021, submit to the Legislature and the California Community College Athletic Association a report containing its findings and policy recommendations in connection with this review."
This bill does not mean that colleges in California like UCLA, USC, and Fresno State can pay college football and college basketball players as employees but it potentially gives those athletes opportunities to have more freedom in college to make money due to their skills as college athletes. The NCAA has some major decisions to make about its model since this could give California schools a recruiting edge even in the PAC-12 Conference where schools like USC and UCLA compete against schools in other states like Arizona, Arizona State, and Oregon.
Regarding the Fair Pay to Play Act, the NCAA said in a statement, "We will consider next steps in California while our members move forward with ongoing efforts to make adjustments to NCAA name, image and likeness rules that are both realistic in modern society and tied to higher education. As more states consider their own specific legislation related to this topic, it is clear that a patchwork of different laws from different states will make unattainable the goal of providing a fair and level playing field for 1,100 campuses and nearly half a million student-athletes nationwide." Regarding this law, the NCAA has threatened to terminate the memberships of California colleges on account of following state law and could wage legal battles against this new law.
Don't buy the NCAA's propaganda about a college scholarship being the best compensation that college athletes deserve. The amount of hours and work associated with being a college athlete leaves most athletes little to no time to make money for themselves. This bill does not mean that colleges have to pay athletes and even allows female athletes like women's college basketball players to cash in on their likenesses at time where they are more visible in college than they are professionally in some situations. This is a major deal for the liberty of collegiate athletes.
Staff Writer; Mark Hines