The 5 steps to enhance IoT security.
(ThyBlackMan.com) With the launch of Internet of Things (IoT) devices there has been a considerable change in the IT industry as the devices are capable of forecasts for the months and even years to come. Thus it is time for the solution providers and manufacturers to review its security and this technology. However a lot of IoT solutions have been implemented across a lot of sectors and better results have been witnessed through it emphasis is highlighted to review much stronger focus on its security. Rather one of the biggest concerns with Internet of Things is make sure that its networks, data and devices are secure. There have been few incidents related to IoT security and this is cause of worry for the IT industry and thus security and networking managers are working hard to avoid similar incidents by adopting some strong security measures. Let us review few steps through which IoT security can be enhanced.
Secure the Device software
To start with the basics it is required to secure the device software initially as once the embedded code and applications become infected with malware a lot of complications can arise. In this case the device installed ma cease to function as designed and data stored internally can be infected through the incorrect data from the endpoint and thus the sensitive data stored at the endpoint can be at risk and attackers can easily download the software stored on the device and can even threaten the device installed. Thus a hardened processor to be installed with only verified software applications to be executed on the device.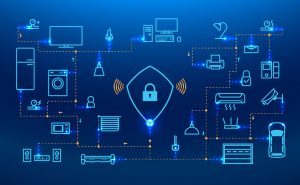 Install access controls in place
Controlling access in the IoT environment is one of the challenges companies face while connecting their assets, products and devices. This also includes the control of network access for the connected objects and thus an organisation need to play smart. Thus in this case organisations needs to first identify the behaviors and activities that are acceptable by connected things with IoT environment and then they should put in place controls that at the same time do not disturb the entire process. Instead of a separate VLAN implement context aware controls throughout the network which can allow appropriate actions and behaviors.
Protect Data
Data is the key and it is something that cannot be overlooked and this is the reason it has its utmost importance. Lost, stolen or corrupt data has no significance and has its own impact on this business. Data stored at the endpoint, central systems and even in transit in network is potentially at risk and thus it needs to be secured with communication protocols in place. Not all data needs the same level of protection and thus be it medical, personal, financial or operational data it will dictate the level of protection required. Smartcard platforms have inbuilt cryptogenic features than can callow additional level of security for the data in IoT solutions thus boosting the protection required.
Allot an individual network of its own to IoT
There are devices which can easily connect via wireless such as thermostats and lightening controls. It is ideal to develop a more secure device however if the environment supports these devices can be put on their own wireless network and thus they are segregated from the production network and allow internet access only. There have been devices such as vending machines that require internet access on which the other things have no control over as it runs on the same hardware but is on a separate VLAN.
Defend against IoT identity spoofing
In the last few years hackers have become more proficient and this has generated a big threat to IoT security. Thus it makes imperative to IT departments and their security to verify the identity of IoT devices that they are communicating with and they should also ensure that they are legitimate for all the communications, software updates and downloads.
There are many other ways of securing the IoT network which can be adapted to secure the IoT and it depends upon business to business what ideas and strategy they adapt to secure it.
Staff Writer; Sherry Carter
Have Tech News? Hit me up at; SherryC@ThyBlackMan.com.