It's Going to be a Long Season for My New Orleans Saints.
(ThyBlackMan.com) This past Sunday I was amped up like every other Saints fan as we prepared to take on the Rams. Yes, I know Coach Payton wanted to give the perception that it's just a Week 2 game, but after the "no-call" foolishness last season we were ready to see the Rams again. Yes, it there was a want for revenge. We heard commentators telling all of us Saints folks to move on. However, if it were their team, they would have felt the same as us…sorry we didn't just lay down. Yes, we expressed our disdain for the team itself to the city. In the season opener against the Texans we one again watched the referees botch call in OUR HOUSE, and then admit it after the game. Stop whining you say…well the problem of bad calls by the refs seem to still be an issue.
With that being said one game is too early to say it's going to be a long season right. I've been a Saints fan all of my life and have always been of the mind that the NFL doesn't like our team…nor city. One could say that's a theory, but I seem to keep finding evidence that supports my position.
I sat down to watch Sunday's game with a bad feeling in my gut regardless of the fact we were favored to win. I felt that we wouldn't get a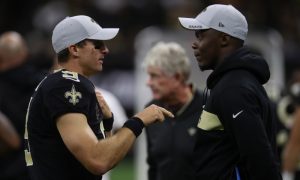 fairly called game from the ref, and only God knows what else might happen. However, I didn't expect to feel sick inside. There were no words to describe the feeling when our beloved quarterback, Drew Brees, went to the sideline injured and no one to what degree he was hurt. Inability to grip the ball…Lord give us strength! The fans were all over this city, and social media, cringing wondering if we would have to bury any hopes of this season. If that wasn't enough…there were those damn referees again. Seriously, are they incapable of doing their job, and if so, why are they on the field?!
Granted I feel all of these factors contributed to the Saints being all over the place…dropping passes, not making the 1st down at 4th and 1 , defense allowing the Rams offense to function…it was just a mess. Yet, my mind kept going back to bad officiating and that would be the discussion of many commentators even if we all agree its happening, as the Saints games was not the only game whereby bad officiating was highlighted, we don't see what the NFL plans to do about this.
Drew Brees had a successful surgery on his thumb, and we are all praying for his recovery and return to the field. Contrary to the opinion of some Saints fans, I have faith that Teddy Bridgewater can keep this offense together, with Sean Payton making the adjustments on offense necessary to fit a QB that is not Drew Brees, until Brees and get back in the pocket. I'm not willing to throw our season away in my mind; I have faith in my team. However, I know its's going to be a long season. I don't say this because Drew Brees is injured I say this because the Saints have a twelfth man to fight…the referees.
Staff Writer; Chelle' St James
May also connect with this sister via Twitter; ChelleStJames.