Get Ready to Glow Up.
(ThyBlackMan.com) We've entered into the second half of the year and it's time to get ready to glow up!  You've studied your new skillset, business strategy or became certified to enhance your career.  Now it's time to stop practicing and go to the next level and that's how you glow up. The glow up reminds me of an analogy I was once told.  Think about the game of basketball.  Now picture in your mind, a kid practicing basketball in a neighborhood park every day.  He spends all of his free time practicing the game.  But until he physically plays the game of basketball with others, he won't experience the real glow up.
You have to do the same thing when it comes to your life.  You can't keep practicing or standing by admiring other people who are doing what you want to do.  Get out there and do it!  Yes, it's as easy as it sounds.  Don't make excuses for why you can't do something, just do it as Nike would say.  The more you put it off or keep standing on the sideline and watching everyone else do things, the more that you are stifling your glow up.  Your glow up is going to be different than anyone else so get ready to feel alone at times, maybe even be misunderstood at times or want to quit every now and then, but don't, your consistency will pay off tremendously and you will sit back and laugh at what you thought were the worst moments in your life.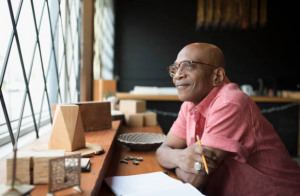 In life, everything changes and people by choice, evolves and that goes for you also.  Don't get stuck in being comfortable.  Be open to the idea that your glow up will not only benefit you, but it will impact so many lives that comes across your paths in life or through who is divinely connected to you.  There is no room for compliancy at the height of your success.  There is no room for fear or doubt at the height of your success either.  Every day, you have the opportunity to get your head in the game and try to do something towards your glow up.  Standing still, doing nothing won't help your unique light shine in this world.
Who cares if 10 people or 15 million people are doing what you want to do or practicing so hard to eventually do, do it any way, there's plenty of room at the top for everyone if you keep going and reach your glow up eventually.  I'll leave you with this, Nipsey Hussle said, "The most important thing, number one, is you gotta get rid of doubt.
If you got doubt in what you're doing, it's not gonna work and the way to do that is you have to have a plan.  'Cause if you got a plan, it's not just like a pipedream, you have a step-by-step list of things to do to get to your goal.  If you don't have that, it's very hard to really have faith in what you're doing 'cause soon as something pop up, it's gonna look like the end-all."
Staff Writer; Felicia T. Simpson
One may also connect with this sister online over at; FTSimpson.com.