Comparison of the Note 10 Plus vs iPhone XS Max.
(ThyBlackMan.com) I'm not the biggest fan of comparing two phones that released months apart in different years. However, there's an exception to the rule when they're both the most recent product in their respective lines. Samsung's most recent offering against Apple's most recent: the Galaxy Note 10 Plus against the iPhone XS Max.
Since Samsung was pretty much the company that brought phablets—phone-tablet hybrids—to the dance and just released the Galaxy Note 10 Plus in August, we'll see what Apple has to exceed based on what they brought last time.
The Exterior: Samsung Galaxy Note 10 Plus vs. iPhone XS Max
Without getting overly technical and throwing numbers upon numbers at you, the Galaxy Note 10 Plus is just larger. Then again, the Galaxy Note9 was larger than the iPhone XS Max and they're actually contemporaries. This has always been the case between the two since Apple was never really about having the biggest phone with the most usable, readable screen.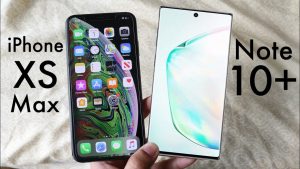 Actually, iPhone embodied what a mobile phone is supposed to be: mobile. Compact. Of course, once it came to boxing with Samsung at the Korean manufacturer's game, it had nice footwork. It just didn't have the reach in this or the last generation. The iPhone 11 Max is expected to be roughly the same size as the XS Max, just a bit thicker. Nothing's changed in the body game.
Apple doesn't play around with aluminum and never have. You're getting a steel body and probably whatever glass they used here. It's definitely from Corning but it's something stronger than Gorilla Glass 5. The displays have always differed with Samsung using a dynamic AMOLED capacitive display and Apple using OLED capacitive. In the year prior, Samsung used super AMOLED.
Outside of a port for the lightning cable, Apple isn't entertaining extra openings on its iPhone devices. So, if you want more space, you would be out of luck this year and you were out of luck last year. Your best bet would be to grab the 256GB or 512GB models. You're just courting heartbreak with 64GB.
Comparing the Two
Also, pitting Samsung against other Android phone manufacturers is a fair, more interesting comparison because Android phones tend to be similar. You're looking at a battle of which one is better quality and which one has the better or more useful proprietary features. They're all in the same pool with the same operating system.
Then again, that never stopped people from comparing PC and Mac.
Even comparing iPhone XS Max to its direct competitor, the Galaxy Note 9, you're really getting "What do you prefer" territory. We pit them against each other because they're biggest manufacturers but ultimately, it's what do you want to do with your phone and what do you want on your phone?
Are you looking for something that is heavily functional? How about a status system? Something that is both at the same time? Wait, is price an issue? Are you big on taking pictures? Tell the truth, you just don't want to get roasted for having "on Twitter for Android" under your replies.
Like I said, it's all about what you actually want from the phones. The iPhone XS Max—released almost a year ago—will be dated to a degree compared to the Samsung Galaxy 10 Plus—which just released weeks ago. It's not heavily dated since there isn't a huge leap in technology of three or four generations.
Staff Writer; M. Swift
This talented writer is also a podcast host, and comic book fan who loves all things old school. One may also find him on Twitter at; metalswift.