Mental health becomes a greater priority for the NBA.
(ThyBlackMan.com) Now more than ever, there seems to be a greater emphasis on mental health. There have been emphasis on physical health for centuries through nutrition and exercise but mental health often took a backseat. Today, it is not unusual to hear people discuss their mental struggles in real life, television characters addressing their own mental health, or even celebrities revealing that part of their lives. Due to the competitive nature of sports, athletes have been historically hesitant to display any type of perceived vulnerability or weakness including admitting that they need some help with their mental health. These type of barriers have begun to be broken down over the past decade by athletes like Metta World Peace, also known as Ron Artest, and current Minnesota Vikings defensive end Everson Griffen, who left his team and was hospitalized during the 2018 season to focus on his mental health issues. Another professional sports league, the NBA, has decided to take further measures to address mental health.
In early August, the NBA issued a memo that announced an expanded set of mental health policies for the 2019-20 NBA season. Some of the measures required by each NBA team include, "all teams must have at least one mental health professional on retainer. Each professional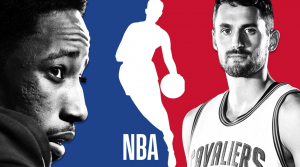 must have "experience in assessing and treating clinical mental health issues."" and that "each organization must "identify a licensed psychiatrist" available to help manage any mental health concerns." Former NBA All-Stars like Kevin Love and DeMar DeRozan have both publicly revealed mental health battles in recent seasons. The NBA also will require all 30 NBA teams to "enact a written action plan for mental health emergencies". This should be an upgrade of the perceived weakness of the NBA's previous mental health plan that has been voiced by former NBA player Royce White, who feels blackballed from the NBA for being critical of the league's lack of mental health policy when he was drafted back in 2012.
Royce White now plays for the BIG3 basketball league and hopes to display the skills that made him a first round pick and NBA prospect. Interestingly, the BIG3 has also released a new mental health policy in August and White was pleased as he tweeted, " There was nothing but consensus and support from the collaborators within the BIG3 and the participants from the mental health community". It will be vital for both the NBA and BIG3 to address mental health thoroughly and to implement it in a way that protects the confidentiality of the players. The media and the public should not be privy to every detail that professional basketball players confide in therapists about.
It will be difficult to get NBA players to open up about mental health struggles due to fear of losing playing time or even their jobs if they are "fringe" type of players who are struggling to make NBA teams. One of the more interesting things about basketball players as opposed to other professional athletes is that even though they play a team sport, they can be viewed as businesses unto themselves. Among the four major team sports in North America of the NBA, Major League Baseball, the NFL, and NHL, NBA players have the most "power" terms of dictating the decisions of a professional sports organization and suitors with player movement. But that can be a double-edged sword because there is significant pressure with every significant business decision and there is time dedicated to being a better basketball player, building a brand, and taking care of family and loved ones but not time for getting that basketball player's mental health on the right track.
Staff Writer; Mark Hines