Everything You Ever Wanted To Know About Motorcycle Safety Gear.
(ThyBlackMan.com) Motorcycles are fast, powerful, and dangerous machines. Whether you are a pro rider or just about to get your first bike, motorcycle crashes are real, fatal, and a risk to all riders. Even pros who have been riding for 20 years still face the risk of crashing.This is why you need motorcycle safety and protective gear.
Motorcycle safety gear is the most important of all motorcycle accessories, and it should be the first thing you buy. There are different levels to gears, and for the newbies, you'll need to know what items to buy and the minimum requirement for each.
Motorcycle helmets
The major role of a motorcycle helmet is to protect a rider's head while riding and during impact. There are four suitable types: Full face helmets, modular helmets, half helmets, and shorty helmets. You can opt for any of these helmets as long as they meet safety requirements, of which there are three: FMVSS218, SNELL, and ECE 22.05.
The FMVSS 218 is the Federal Motor Vehicle Safety Standard 218, and is a standard enforced on manufacturers. The standard ensures that all approved helmets are resistant to penetration and absorb impact. Most major manufacturers adhere to this standard, but it doesn't hurt to check.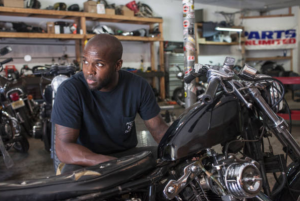 The SNELL standard is a voluntary standard set by the non-profit organisation, SNELL, for helmets. While the FMVSS 218 standard is the minimum standard required by law, the SNELL standard, which is tougher, is not required by law but raises the bar.
The ECE 22.05 is a standard set by the Economic Commision of Europe and is adopted by over 47 countries.
In any helmet, you should look for full protection for your head and face. It is recommended that you opt for full face or modular helmets. If you must get a half helmet, get one with a visor. Additionally, a manufacturer logo or any other company or brand seal that shows authenticity is also important, as these tend to have a quality safety rating. Also, your helmet should have proper ventilation and an aerodynamic design.
Jackets
Contrary to some notions, it is inadvisable to wear designer leather jackets in place of standard motorcycle safety jackets— no matter how cool they look. This is because motorcycle jackets are specifically designed to protect your body from the negative impacts of moving at high speeds and crashing.
Motorcycle jackets manufactured in Europe adhere to the CE, Conformité Européene, safety standards. You should opt for a jacket that has padding/armor at the elbows, forearm, backspine, and shoulders. It should also be made of thick leather: 1.2mm for regular, 1.4mm for professional/racing. Reflective stripes for visibility at night are important, as well, as are sealed zippers that keep out water.
Pants
Motorcycle pants are usually made of materials like leather, kevlar, denim, and some other synthetics made to withstand abrasion and impact. High-quality pants are also water repellant and can withstand difficult weather conditions. The ideal motorcycle pants come with protection in the knee, hips and shins.
Gloves
Gloves may seem miniscule, but they are a very important component of safety gear. People tend to break their falls with their hands, and this could lead to serious impact damage and other injuries— a broken wrist could be the least of your problems. Also, gloves keep your hands warm when moving at high speeds (as it tends to get cold), when it's raining, and in other harsh weather conditions.
Boots
Sneakers, sandals, or dress shoes shouldn't even be considered here. Proper boots are made of heavy leather, metal, plastic and other composite materials based on conditions of use. There are different categories of boots used for different riding conditions and these include racing boots, touring boots, and motocross boots.
All these boots, however, have some similarities. For one, they all protect the ankles, toes, heel, and in the case of racing boots, the shin. Keep in mind that you should lookout for:
Stitching: High quality boots have double or triple stitching, and the sole is also stitched to the boot, as opposed to being glued on.
Ankle, toes, and shin protection
Soles with a good grip
Proper ventilation
Proper safety gear are a bit expensive, but are essential to your physical well being. In the event of a crash, it could be this very gear that saves your life.
Staff Writer; Paul Brown