We Don't Need More Entertainment.
(ThyBlackMan.com) We live in a stressful society. Every time we look up something tragic is happening in the news. Our government has turned into one big reality tv show, and it's a disgrace in the likes of which many of thought we'd never see. There is craziness on the job. Some people are fighting to get a job. Everyone has bills they must pay, and we have to eat if we are to live. When you have children, this game gets a bit more complicated as they have needs, and we tend to prioritize such above self. There is always something more to do, and something else to fix. This is life, but its why entertainment is valued by many. It's the space whereby we can let our hair down and take a breather from the world around us. In the entertainment space we can find a moment to laugh, and we are reminded that life isn't on long running together of duties. If we are honest there is entertainment everywhere, and social media makes it very accessible. We can tune in to entertainment immediately in the midst of lie happening in other areas. However, some things aren't entertaining, and to break the monotony of what can be life we need more attention to information.
Balance is very important. If we must cry there has to be laughter at some point. Many of us know even if its raining in life the sun will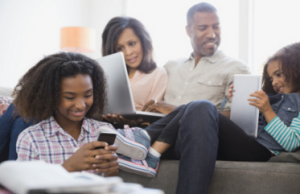 eventually shine again. Such is the balance between responsibility and entertainment. What we must be mindful of is everything we find funny really isn't entertaining. While viewing social media we see fights, falls, and various kinds of suffering and pain. Its unfortunate that is can become a meme that has many laughing for hours. Suffering should never be a form of entertainment. As sure as you laugh at someone else pain…your moment could be right around the corner.
Virtual entertainment can also be considered a black hole when it comes to time management. Some can sit on social media for hours watching others live their life, or what is perceived as life. for some this is an agent in their procrastination. If not careful the things that need to be done will go undone that's to social media entertainment. There is nothing wrong with engaging in social media. However, it becomes a hinderance when it can cause us to forget humanity or eat up time that is needed for something important.
If we want to move from a place of career and financial frustration it will require drive and information. There are many different resources that can assist us with achieving goals and bettering our financial position. Yes, you might want to engage heavily various sources of entertainment but taking the time to learn different ways to better your life can put you on a path to experience a different level of entertainment. Being able to go to a new level on your job, or just in your ability to bring in more finances would bring about more comfort and ability to better quality of life and entertainment. Taking a break from entertainment to entertain different business and growth endeavors can get you closer to the greater relaxation you deserve.
Staff Writer; Christian Starr
May connect with this sister over at Facebook; https://www.facebook.com/christian.pierre.9809 and also Twitter; http://twitter.com/MrzZeta.