New York City Doesn't Deserve a Mayor Like Bill DeBlasio.
(ThyBlackMan.com) On July 17th, 2014, Eric Garner was killed after NYPD officer, Daniel Pantaleo placed him in a departmentally banned illegal chokehold during an arrest that never should have taken place. As Officer Pantaleo choked Mr. Garner and his fellow officers jumped on top of him, Garner yelled, "I can't breathe" at least 11 times before eventually expiring on the pavement. The coroner ruled Garner's death a homicide, and the doctor who performed an autopsy said Officer Daniel Pantaleo choked Mr. Garner with enough force to cause internal bleeding in his neck-a chokehold so forceful that it triggered a lethal cascade of events, ending in a fatal asthma attack.
Last month, the U.S. Department of Justice announced that it would not bring criminal charges against Officer Pantaleo for the killing of Garner, 4 ½ years after a Staten Island grand jury refused to indict him. Today, after 5 long years of protest, an NYPD administrative judge ruled that Pantaleo-who has continued to work under the employ of the NYPD, while receiving a raise in salary-used an illegal chokehold on Eric Garner, and recommended that Pantaleo be fired from the department.
Now, while it is only a recommendation, the final decision rests with NYPD Commissioner, James O'Neill, who was appointed by Mayor Bill DeBlasio, and works at the Mayor's pleasure.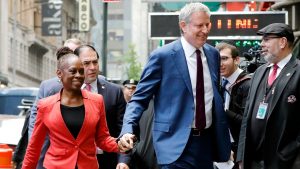 Over the last 5 years, Mayor DeBlasio has become quite efficient at 'passing the buck' of blame to various agencies for failure to bring justice to the Garner family, while using none of his authority or influence to do anything about it. He has been promising justice to the family for years, while craftily sidestepping all responsibility for bringing it to them. The point is, if Bill Deblasio wanted Daniel Pantaleo fired, he would have been fired. Mayor DeBlasio is Daniel Pantaleo's boss's boss. It isn't rocket science. However, one would think that they would need a degree in aerospace engineering to navigate through the maze of doublespeak and evasion DeBlasio has become so proficient in. Not only has he failed the Garner family, but he has also failed all New Yorkers-especially, black and brown.
While he has facilitated a record surge in gentrification, which is pushing communities of color right out of their neighborhoods, he has also exacerbated the homelessness crisis in New York City to a record high. Bill DeBlasio has taken Michael Bloomberg's policies and pumped them up on steroids, and all for financial gain. DeBlasio has already been under investigation by the FBI and U.S. Attorney for corruption and has been accused of accepting and soliciting bribes in exchange for favors from City Hall, with at least one of his campaign donors, Jeremy Reichberg, pleading guilty (and getting convicted) to bribery. According to the Daily News, DeBlasio broke conflict of interest rules by soliciting political donations from real estate developers asking for favors from his administration.
Mayor DeBlasio assigned his wife, First Lady Chirlane McCray, a budget of $850 million dollars for the ThriveNYC Program, a mental health program she champions, but, to date, neither she nor organizers have been able to explain where the budget has gone and how it was spent. In the more than three years it has been running, organizers at ThriveNYC have largely failed to keep records of the initiative's achievement-so, the question is, where is the money??
The DeBlasio administration has been one big money making scam after another, from the Mayor's "Vision Zero" initiative-which criminalizes motorists in the city while purposely forcing drivers into gridlock-to facilitating the pathway for mega rich developers to drive middle class New Yorkers out of their neighborhoods while driving up rents in the city to astronomical prices. Bill DeBlasio is creating a New York for the 1 percent, and he is doing it all while masquerading as a 'progressive' champion for the poor and middle class. He parades his black family around when it is politically propitious, then immediately goes back to ignoring the communities he pretends to care about. While black communities, in particular, find themselves under siege in NYC by crime, gentrifiers, and economic and educational disenfranchisement, Bill DeBlasio sits in Gracie Mansion, planning his next money-making scheme. He champions causes for undocumented immigrants, but when black women are gang assaulted by undocumented Chinese nail salon workers in Brooklyn, the Mayor remains silent. When rents in majority black and brown neighborhoods triple, and 'affordable housing' is redefined by this administration as 3 to 4 times the median income of the residents of those neighborhoods, Mayor Bill DeBlasio doesn't say a word. We don't just need new policies…we need a new mayor. Bill DeBlasio is an empty suit, and he is a complete embarrassment to New York City.
Many believe that he has only joined the Presidential race to cash in on the campaign donations. Based on his record as mayor, it seems to be a legitimate possibility-likelihood, even. Whether conservative or liberal, Democrat or Republican, New Yorkers are unified in one sentiment-we deserve better than this mayor. He is destroying everything this city used to stand for. What was once a beacon of culture, entertainment, food and the arts, is now a miserable, overcrowded, and rapidly gentrifying sea of hipster cafes and snobby neighbors. We want our New York back…and that starts with the removal of Bill DeBlasio.
Staff Writer; Tony Lindsay
Twitter: https://twitter.com/lartist580
Facebook: https://www.facebook.com/lartist580