Colin Kaepernick In Context.
(ThyBlackMan.com) Quarterback Colin Kaepernick refused to stand during the playing of the national anthem, during the 2016 football season, choosing to kneel instead. When reporters asked why, he said, "I am not going to stand up to show pride in a flag for a country that oppresses black people and people of color. To me, this is bigger than football and it would be selfish on my part to look the other way. There are bodies in the street and people getting paid leave and getting away with murder."
His contract with the San Francisco 49ers expired at the end of the 2016 season, and was not renewed or picked up by any other team. Despite losing his job, he pledged to give one million dollars to organizations pushing social justice, and he founded the "Know Your Rights Camp" to teach youngsters in the community about self empowerment, legal rights and American History.
In February, 2019 he won significant damages in his successful suit against the NFL, charging the league with collusion for keeping him off the field for exercising his right to free speech. In July, 2019, Kaepernick objected to a sneaker Nike had released that he said was racist in nature. Nike quickly recalled the shoe from every store shelf.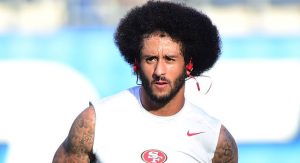 Collin Kaepernick's stance was reminiscent of Muhammad Ali's refusal to be inducted during the Viet Nam War and Kurt Flood's sacrifice of his baseball career to win free agency, the right of athletes to freely bargain with all teams before signing a contract. They were also a direct parallel to Tommie Smith's and John Carlos's protest at the 1968 Mexico City Olympics. After coming in first and second in the 100 meter dash, during the award ceremony, each raised a black gloved fist and bowed their head during the national anthem. Their future careers in sports were badly damaged.
Recently, on August 9, 2019, at the Pan American Games in Lima, Peru, two US athletes launched similar protests. Upon winning the gold medal for the hammer throw, Gwen Berry raised a black gloved fist during the anthem. She said, "Every individual person has their own views of things that are going on. . . It's in the Constitution, freedom of speech. I have a right to feel what I want to feel. It's no disrespect at all to the country. I want to make that very clear. If anything, I'm doing it out of love and respect for people in the country. . . A lot of things need to be done and said and changed. . . I just know America can do better."
Also during the Pan American Games, Race Imboden, after winning a gold medal in fencing, knelt during the national anthem. His explanation? "We must call for change. This week I am honored to represent Team USA at the Pan Am Games, taking home Gold and Bronze. My pride however has been cut short by the multiple shortcomings of the country I hold so dear to my heart. Racism, Gun Control, mistreatment of immigrants, and a president who spreads hate are at the top of a long list. I chose to sacrifice my moment today at the top of the podium to call attention to issues that I believe need to be addressed. I encourage others to please use your platforms for empowerment and change." They both face disciplinary action by the US Olympic Committee.
Staff Writer; Arthur Lewin
This talented author has just published a NEW book which is entitled; AFRICA is not A COUNTRY!.
For more articles written by this talented brother click on the following link;http://thyblackman.com/?s=lewin.