Black August in Sports: Great moments in Black History.
(ThyBlackMan.com) The month of August does more than just represent the eighth month of the calendar year, it is important for African-Americans, for Black Americans. August is a month that is ripe with incredible history of Black resistance including The Fugitive Slave Law Convention of 1850 and The March on Washington for Jobs and Freedom in 1963. August can also be known as "Black August" as it was founded by California prisoners during the early 1970s and institutionalized by the Black Liberation Movement in 1979. There is also remarkable past of black history in sports during the month of August. Here are some of the prominent moments in black sports history that occurred during the month of August:
-August 22, 1950-Althea Gibson, at 23 years old, became the first black competitor in a US national tennis competition, which was national and international news at the time. There is no Serena Williams, Venus Williams, or Sloane Stephens today without Althea Gibson's debut and subsequent success in a historically white, elitist sport.
-August 5, 1952-St. Louis Browns veteran pitcher Satchel Paige, 46, becomes oldest pitcher to win a complete shutout, 1-0 v Detroit Tigers in 12 innings. Paige is considered one of the best players in Negro League Baseball history and one of the best pitchers ever to play professional baseball.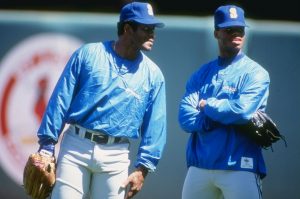 -August 17, 1987-Muhammad Ali was elected to "Ring" magazine's Boxing Hall of Fame. Ali retired widely considered the greatest boxer of all-time and fought in numerous all-time great boxing matches. Ali's boxing greatness is only matched by his social and cultural impact.
-August 31, 1990-Ken Griffey Sr. and Ken Griffey Jr. became the first father and son to play on same Major League Baseball lineup as they played for Seattle Mariners. They both singled in the 1st inning, leading to memorable fatherhood images.
-August 1, 1996-American track great Michael Johnson won the 200-meter at the Atlanta Olympics in a world record 19.32 seconds to become the first man to complete the 200-meter-400-meter double. Johnson became known as the "fastest man in the world" during the late 1990s.
-August 5, 2006-Warren Moon became the first black quarterback to be inducted into the Pro Football Hall of Fame. Moon's lengthy NFL career was preceded by a great career in the Canadian Football League, where Moon played after going undrafted in the 1978 NFL Draft largely due to racial stereotypes against black men playing quarterback in the NFL.
-August 11, 2016-American swimmer Simone Manuel tied Penny Oleksiak of Canada for the gold medal in the 100 m freestyle and both set an Olympic record of 52.70. Manuel was the first African-American woman to win a gold medal in an individual swimming event. Manuel understood the significant nature of her achievement as she said, "It means a lot [to be the first black woman to earn gold in the pool. I mean, this medal is not just for me. It's for a whole bunch of people that came before me and have been an inspiration to me. Maritza [Correia, Cullen [Jones, and it's for all the people after me, who believe they can't do it. And I just want to be inspiration to others that you can do it."
-August 26, 2016-San Francisco 49ers quarterback Colin Kaepernick publicly addresses sitting for the national anthem during the 49ers' third preseason game. Kaepernick says, "I am not going to stand up to show pride in a flag for a country that oppresses black people and people of color. To me, this is bigger than football and it would be selfish on my part to look the other way. There are bodies in the street and people getting paid leave and getting away with murder." Kaepernick would began kneeling during the national anthem after having a conversation with former NFL player and U.S. military veteran Nate Boyer. He has not played in the NFL since 2016 but his protest has been a major part of the new wave of athlete activism during the past decade.
Staff Writer; Mark Hines