Why All of MLB Owes a Debt of Gratitude to Curt Flood.
(ThyBlackMan.com) Although not as well-known as he should be, Curt Flood single-handedly changed the game of baseball for the better. His efforts fighting against the reserve clause put a massive change in motion for the whole of the sport of Major League Baseball.
Jackie Robinson is still remembered, rightly, every year for his battle to integrate baseball. Muhammad Ali fought racism and religious bigotry. Michael Jordan is conceivably the greatest basketball player ever to play the game. There's Jim Brown and Magic Johnson and LeBron James and Reggie Jackson; Jesse Owens and Willie Mays. But if you think about it, sports as we know them today would be far different if Curt Flood had never pressed for the freedom to choose where he could play.
Many have argued that Flood deserves a spot in the Hall of Fame for his historic legal battle. While he didn't get to see the fruits of his labor during his time in Major League Baseball (MLB), he deserves recognition nonetheless—as the first player to stand up to their unfair practices and demand more rights.  Flood was a man of robust opinions who strongly believed he was right. He'd stood on the lines in the Deep South with Martin Luther King Jr. and Jackie Robinson, and he'd fought his own individual battles for equal rights in the civilian non-baseball world.
Flood's early life, and his decorated MLB career
Curt Flood's activist streak started early—even as far back as his childhood. In fact, ImagineSports.com writes that Flood was "schooled by his mother on the Civil Rights movement" and even joined Dr. Martin Luther King's protests in Mississippi during the early '60s.
Clearly, Flood was well-versed in the fight for racial justice of his time. His spirit of activism would later serve as motivation to speak up on behalf of all professional baseball players' rights.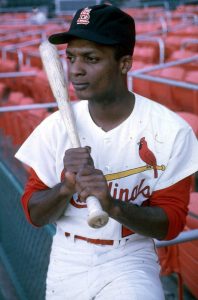 And, even aside from any of his advocacy work, Curt Flood cemented a place for himself in history as an extremely decorated player. Howard Burns writes that, throughout Flood's career in the MLB, he "was a three-time All-Star, [and] seven-time Gold Glove winner."
Sadly, Curt Flood's eventual legal battle against the MLB would essentially end his career and lead to a series of personal issues, ultimately ending in an untimely death at the age of 59, due to throat cancer.
The legal battle and its context
Flood's legal fight against the MLB was prompted by events in 1969. After he was traded by the Cardinals to the Phillies during the fall of that year, he stood up and resisted against the decision. For many reasons, Flood didn't want to leave his current team (including the prospect of facing racist responses from fans in Philadelphia).
Perhaps the most crystallized account of Flood's dissent was in the letter he wrote to then-commissioner of the MLB, Bowie Kuhn. Wikipedia cites that Flood wrote:
"After twelve years in the major leagues, I do not feel I am a piece of property to be bought and sold irrespective of my wishes."
Flood's issue was primarily with the league's reserve clause, which dictated that players must go along with the wishes of the team they'd initially be signed to. He recognized this as an unjust lack of rights for players, hoping that Kuhn (and the MLB) would remedy the situation. But unfortunately, Kuhn rejected his wishes and even doubled down.
ImagineSports.com explains that Flood "went to Marvin Miller, director of the Player's Association" to get assistance in suing the league. With Miller's help, Curt Flood sought legal action against the MLB, eventually even bringing the matter as an appeal to the Supreme Court. However, despite the fact that Flood brought the matter to national attention, he ultimately lost the case in a 5-3 vote. Interesting to note from this writers perspective: Not one active player appeared in court at any time to support Curt Flood in his effort to change an owner dominated scenario; however; an aging and ailing Jackie Robinson was there. The maverick owner Bill Veeck was also there. But not one active player. This structure gives new meaning to the adage: Keep your friends close and keep your enemies closer.
Although Curt Flood didn't get the result he'd wanted, his work got the fight against the reserve clause started in a very real way. Flood never stood to benefit from the ultimate changes he'd initiated, but his impact on baseball as a whole emanates even to this day.
Reflecting on Flood's crusade
Howard Burns cites that, "Four years later, the reserve clause was struck down for good when arbitrator Peter Seitz ruled that pitchers Andy Messersmith and Dave McNally could become free agents." So clearly, Curt Flood's legal battle eventually influenced tangible change for all professional baseball players.
Flood's history as a protester during the Civil Rights movement no doubt gave way to the strength he'd need to begin that fight against the MLB. His courage in the face of injustice was a theme across his life, which ultimately gave way to progress for all player's legal rights.
ImagineSports.com adds that "He also was honored by the NAACP in 1992 for his fight against baseball." This formal recognition indicates just how important Curt Flood was (and still is) in the scheme of American sports history.
Any professional athlete who now enjoys the benefits of free agency should feel immense gratitude to Curt Flood and his work. In the face of such injustice, he was a beacon of hope and bravery.
Not only was Flood an incredible athlete and advocate, but he did all of this important work at a time when black people in American were facing immense racism and discrimination. His multi-faceted identity—as an epic baseball player, a Civil Rights protester, and a steadfast fighter against unfairness—shows just what a star he was.
While black people in America were fighting for basic human dignity and facing extreme adversity, it would have been understandable for Flood to have backed down when the MLB rejected his request to become a free agent. Everyday people were struggling to be treated fairly, so it would be conceivable that Flood might not have wanted to rock the boat at such a difficult time.
But that simply wasn't in his character—he was an extraordinary fighter who stood up against what he believed was wrong, no matter the climate. This legacy should be inspirational to anyone; Curt Flood literally changed the course of history not just his chosen sport of baseball.
Flood deserves much more acclaim and respect than he ever received in his lifetime—and hopefully, many more people will continue to learn of his crusade to make life a better place for all mankind.
Staff Writer; Stanley G. Buford
Feel free to connect with this brother via Twitter; Stanley G. and also facebook; http://www.facebook.com/sgbuford.