The Best Golf Club Sets for Men to Buy in 2019.
(ThyBlackMan.com) If you are a male golfer who is looking to buy some of the best golf club sets around, you should click here for a review on the best ones to get in 2019.
Golf is a wonderful game! The smell of the putting green, the cool breeze blowing through your hair, and the sound melodic of the ball hitting the bottom of the hole are all exhilarating!
Buying your own A full set of top of the line clubs from one of the major companies costs anywhere from the $400 to around $1,200 per set! That's a hefty price for novices or weekend warriors.
How do you know which golf clubs are the best golf club sets for your money? We have the ultimate guide to the most popular golf club sets out this year. Keep reading to learn which golf club set you should go buy today!
Cobra Men's Fly-Z X: Regular Flex Complete Set
Look no further for an awesome 12 piece set for those who love oversized drivers! Those who are a bit more advanced than beginners can even choose the flex option!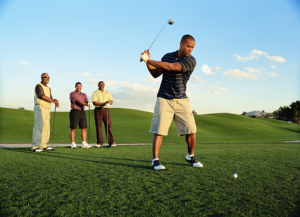 At a reasonable price, this set is sure to be a favorite for anyone who enjoys a bit of forgiveness in the clubs while maximizing distance.
Tommy Armour Men's Axial 16 piece Complete: One of The Best Golf Club Sets 
The Tommy Armour 16 piece set is a great combination of inexpensive and effective, making this a great value for any casual golfer. Even better, this set also comes with a cover to keep your equipment dry if you get caught in a rain shower!
As a well-rounded golf club set should, this set includes a good driver, 5 through 9 irons, a 3 wood, a 3 hybrid, a 4 hybrid, a mallet-style putter, and a pitching wedge. These 11 clubs will get you through any golf course and the obstacles they pose.
Wilson Men's Ultra Complete Golf Set (Standard Version)
These steel clubs with standard grips are great for beginners and casual golf enthusiasts! Though it only includes 10 clubs, you'll see that it comes with all the necessities.
If you are shorter than 6′ 2″, then these clubs will fit you like a glove, and because they sell at a fair price, they will fit your budget as well!
Callaway Golf Strata 12 Piece Men's Golf Set
Engineered for accuracy, these clubs are a favorite for men looking to improve their game and go beyond beginner status! While it only comes with 2 putter heads, the bag is superb stand bag that is also lightweight so it won't break your back.
These clubs are a bit on the longer side, so men in the 6-foot range will feel like these are the perfect length! And, with the beautiful design, this set will make any man look lie a power player!
Pinemeadow Men's 16 Piece Complete Golf Set
This set is perfect for beginners! This 16 piece set comes with a great stand bag that also has dual straps! If you are buying your first set of golf clubs, this set comes with a little of everything you might need out on the green.
The clubs themselves have superb grips and allow you to have excellent launch and control of the ball. The driver in this set is 10.9 degrees and titanium enhanced for the most energy transfer from you to your ball.
This is one of the more expensive club sets on our list. But, don't let that stop you from improving your golf game! You can get golf clubs on finance without having to do a credit check with various companies and loan programs.
The Judge Men's Complete Golf Set
We couldn't leave out the left-handed golfers! This is the golf club set for you!
These quality clubs themselves have steel and graphite components to make them easy to use, but the real masterpiece in this set are the accessories! The bag has 7 exterior pockets for all your stuff and the inside even has a 6-way divider! Throw in three head covers to protect your hybrid club, driver, and fairway wood to add the cherry on top.
Not convinced yet? This golf club set also boasts a 1-year warranty that covers any manufacturing defects! What do you have to lose?
Winfield Vertex Men's Golf Package Set
For those who want their golf game to be larger than life, introducing the Winfield Vertex golf club set! In this set, both the irons and the matrix driver qualify as oversized. The putter in this set is also neat because blade style putters don't often come as part of a set!
On top of the solid clubs, this set also has a lightweight stand bag which has dual straps to make it easier to carry from hole 1 to hole 18! Left-handers can also feel comfortable using these clubs because of their unique design!
Adams 12 Piece Complete Golf Set
For couples who love to golf together, the Adams 12 piece set is perfect because they come in a variety of colors for either men or women! People who love using their irons (or want to learn to use them better) should go for this set. Once you are comfortable using them, you'll notice an improvement in the distance you can hit the ball.
This set comes with a pretty sweet club bag as well with tons of organizing pockets and compartments. They also throw in 4 headcovers to make sure your clubs stay in tip-top shape!
What Are You Waiting Fore?
Once you have your clubs, it's time to get out on the green!
Having one of the best golf club sets around doesn't make you an instant Tiger Woods. Even if you are familiar with proper golf technique, you need to practice with a new set of golf clubs to ensure you can play your best. Different clubs feel different in your hands, it's worth it to putter around a bit before attempting a competitive game.
We hope you enjoyed this article and that it helped you prepare to buy your next set of golf clubs. If you know someone else that would love to buy some new golf clubs, please share this article to your favorite social media sites!
Staff Writer; Rick Poole