Champ Bailey's challenge to white allies and self-hating black people.
(ThyBlackMan.com) Every summer, one of the interesting sporting events of the year are the Pro Football Hall of Fame enshrinement speeches. The eight inductees of the Pro Football Hall of Fame Class of 2019 didn't have the type of personalities of last year's class which included former greats like Ray Lewis and Randy Moss and the drama of Terrell Owens taking issue and not giving his speech with his cohorts at the Pro Football Hall of Fame. However, like most years, there were interesting and fascinating speeches by men who described their life journey to football greatness. If there was a theme to the Class of 2019, it was greatness in the secondary as half of this year's inductees played in the defensive backfield during their NFL careers. One of those former stars in the secondary, former NFL All-Pro cornerback Champ Bailey, sent a message to the public that supercedes his Hall of Fame career.
Among the most recognizable names to be inducted into the Pro Football Hall of Fame last weekend were Champ Bailey and Ed Reed. Reed established himself as one of the best safeties in NFL history during his time with the Baltimore Ravens as a ballhawk and the leader of the secondary as Ray Lewis led the rest of the Ravens defense. Prior to the Hall of Fame ceremony, Reed made some waves by wearing a T-shirt with pictures of black victims of police brutality including Eric Garner, Tamir Rice, and Sandra Bland. He also discussed his own experiences with police during his Hall of Fame speech that seemed contradictory to the T-shirt he wore days earlier. But it was Champ Bailey's social message during his speech that spoke the loudest.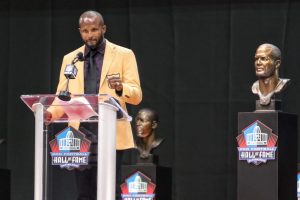 Along with discussing his personal life while growing up in an athletic and competitive family during his Hall of Fame speech, Champ Bailey said, "My brothers, some of you are athletes; some of you are not athletes. But we are all black men first, something we have more expertise in than any aspect of our lives. I'm a firm believer that if you want to create change, you better start with your friends and your family. So I'm going to start here today. The first thing people see when they look at me is not a Pro Football Hall of Famer or a husband or a father. They see me first as a black man.
So on behalf of all the black men that I've mentioned tonight, and many of you are out there, you've had most of the same experiences I've had in my lifetime, we say this to our white friends: When we tell you about our fears, please listen. When we tell you we're afraid for our kids, please listen. When we tell you there are many challenges we face because of the color of our skin, please listen. And please do not get caught up in how the message is delivered."
Bailey was not done discussing race and delivering messages to white people and black men who vocalize their negativity of black people. He finished his speech by saying, "Yes, most of us who are black athletes are black men first. Understand this, the things that make us great on the field — our size and our aggression — are the same things that can get us killed off the field. I believe if we start listening, there's no telling the progress we can make. All of us are dads, sons, brothers, your friends. We all understand that if we can't get our friends to listen, then no one will. And to my black brothers, if you do not have anything positive to say about our social challenges, please keep your mouths shut." It is incredible that during his biggest accomplishment of his career that Champ Bailey challenged people to fight racism with authenticity and sincerity.
Staff Writer; Mark Hines