Surface Centaurus: Microsoft Redefines Its Dual-Screen Laptop Vision.
(ThyBlackMan.com) The internet is full of news and rumors surrounding the Microsoft Surface Centaurus release. The Centaurus is a rumored dual-screen laptop Microsoft secretly showed off to its staff in June. The device has two display panels each having a 9-inch screen with an aspect ratio of 4:3 similar to that of the larger Apple iPad Pro. Also, the device will support Surface Pen and touch keyboard.
Microsoft will bring Surface Centaurus on Windows Lite, a lightweight version of Windows 10. Just like the Centaurus, the OS project also remains unannounced and is reportedly coming later this year or in early 2020. The Centaurus is said to be coming equipped with Intel's new 10nm Lakefield processor and could also support 4G or 5G LTE connectivity.
Reports also suggest that Microsoft will bring Android apps on Windows Lite. It means the Surface Centaurus will run Android apps. The idea sounds good considering the amount of content Google Play Store has which Microsoft clearly lacks on Microsoft Store. Although we'll have to wait for official details as Microsoft hasn't said anything yet.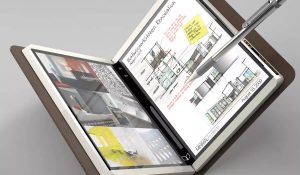 Microsoft has been working on Surface Centaurus for years. If you paid attention to the previous Microsoft rumors, you probably know that Surface Centaurus is not the only project that talks about a lightweight, dual-screen computer. Projects codenamed Andromeda and Courier have always got fans talking about the future of Surface devices, particularly foldable devices and dual-screen computers.
This isn't the first time we heard about the possibility of Android apps coming to Windows. Microsoft had planned this for Andromeda. Windows Lite is based on Microsoft's Windows Core OS, a lighter and universal version of Windows 10. With Windows Core OS, Microsoft is planning to build a base for its operating system so the company can use it across different devices without having to create different versions of Windows 10 for different devices. When this vision takes shape, Microsoft will be able to reduce a lot of workload from the development team and can create a seamless experience across devices.
Just like other Surface devices, the Microsoft Surface Centaurus will sport a stylish, premium design. The Surface design team is known for perfection, so it's safe to assume that the Microsoft Surface Centaurus release won't disappoint. Interestingly, Microsoft is working on a new hinge mechanism for Surface devices. Patent details, which are now available on the website of the U.S. Patent Office, suggest that Microsoft is planning to reduce hinge size with a new kickstand hinge that will have "portions secured together." The hinge will use a "state-transitional material" which will change the design in many ways offering more flexibility and the possibility of new use cases.
Two screens on Surface Centaurus could work in many ways. People can use the device like a laptop with one display panel working as the main screen while the other one can be used for virtual trackpad and keyboard. In tablet mode, the device can be used by two users at the same time giving better options for collaboration. When opened, the device can also work as a tablet making it easier for users to take notes and draw things on the screen.
Though all these features make the Microsoft Surface Centaurus more appealing, Microsoft may have to face some challenges. Currently, the company's Surface product line is focused more on business users and enterprises. On the software part, Microsoft's tablets feel useless as its own store lacks content which limits the functionality of Surface devices. Although there are devices like Surface Go, Microsoft still needs to build more affordable products in order to respond to competition.
Many companies including Lenovo, Samsung, and Apple are working on dual-screen devices. The market is still not completely ready for such products. Many popular mobile applications don't look great on large screens, companies have also not generated the need for such devices. However, Microsoft Surface Centaurus looks different and interesting.
Staff Writer; Corey Shaw
Have any Tech Tips? News? Hit up our Tech Guru at; CoreyS@ThyBlackMan.com