Office Supplies For Your Daily Use.
(ThyBlackMan.com) Office supplies may not rank the highest in priority when planning to run a business, but they sure hold great value in running an office smoothly. Common office supplies like printer ink and copy paper aren't the only office supplies you are going to need. There's definitely other tools and supplies that ensure that the work goes on without any hindrance. Machines like laminators, 3-D printers, and binding machines remain uncredited for their preliminary support in the office environment.
All three provide a smooth office experience to the employees. Despite their unprecedented efforts that contribute towards a professional working environment, they remain forgotten. This article aims to shed some light on the unsung heroes of the office.
1. Laminators
Laminators are your best friend especially when you are looking to keep an important document safe. It is pretty normal to have important documents lying about in the office, therefore, the need to keep them safe is quite necessary. This is where laminators come in. They provide versatility whether it is for home or a blue collar office, maybe even in a start-up business. This could include:
•Size of your business – a large number of users require a bigger and better machine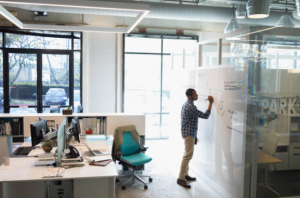 •How often will it be used – regular usage requires advanced features
•Type of lamination you require – the dimensions required for the task
Creating signage is one of the essential uses of a laminator. To find your perfect laminator, we recommend USI Laminate.
Lamination makes preservation of documents, signs, menus, and artwork easier. Lamination seals the document between thin plastic sheets which protects the document from coffee spills, scratches, fingerprints and any kind of possible mishap that may occur. The process may sound complicated, but laminators make the task stress free.
Laminators can be used for various purposes, including the following:
•ID badges
•Phone lists
•Checklists
•Inventory lists
•Price lists
2. Binding machines
In a professional office environment, all documents require a formal presentation. Maybe it is business proposals or reports from last year, they all need to be arranged in a proper way. A standard procedure for arranging these documents is by binding them together using a binding machine.
Opposed to the popular view, paper is still the standard form of presenting documents. Some documents still require to be presented in hard copies as the electronic format may not be a suitable option for all. Therefore, your office may require a binding machine after all. Some of the uses for binding machines may be as such:
•Tax Returns
In formal business environments, organization is key. Keeping a formal record of all tiny details is an essential part of the business, especially when preparing tax return documents.
•Company Overviews
Every business with a set of employees creates an overview report in order to keep track of its progress.
•Operational Handbook
Operational handbooks are a big part of management. It is a formal process of communicating with employees on what is expected from them. Binding machines help create these according to their needs.
•Internal Business Plans
Creating custom business plans with the assistance of a binding machine helps to plan and tackle market opportunities.
3. 3-D Printers
It is only recently that 3-D printers have started to play an important part in the modern office. Many are still unaware of how the printer works, but as the offices move towards advancing productivity, 3-D printers have started to prove to be an office essential.
First, let's talk about how the printer works. 3-D printing is the process by which three-dimensional models are created into physical objects. The printer uses a filament to print the digital idea into a tangible one layer by layer. In an office setting, it can be used to build prototypes to present the idea in a realistic format. These printers use a variety of different materials such as plastics, steel, titanium, gold, etc.
Where these printers fulfill the basic requirement of creating prototypes, they can also be used to fulfill low volume production. This is common among entrepreneurs who are interested in launching a new product. It helps create, test, and redesign new products.
Some other applications of 3D printers include:
•Rapid prototyping
•Production parts
•Modeling
•Sculptures
So as you can see, machines like laminators, 3-D printers, and binding machines are here for the duration because of the support they provide in the office environment.
Staff Writer; Calvin Parker