How the mother of a NFL All-Pro wide receiver gives him inspiration.
(ThyBlackMan.com) "We all deserve to live a life full of meaning and purpose, a life of dignity and one safe from harm. Speaking her truth and telling her story, Sabrina Greenlee, strives to end the culture of silence towards Domestic Violence and Abuse, so that victims everywhere can raise their voices and own their power. Through her triumphs and disappointments, she birthed the idea of a community where women and children could be inspired, empowered and uplifted to become the persons they were created to be."
These are the words that adorn the home page of Sabrina Greenlee's website. On the surface, she appears to be another successful professional black woman with an entrepreneurial spirit but that initial impression of Sabrina Greenlee, the person and her purpose, is nowhere near the force that she is. Among the many things that represent what she is, she is a proud mother of four children who attended college, although she had to deal with multiple traumas and horrific situations.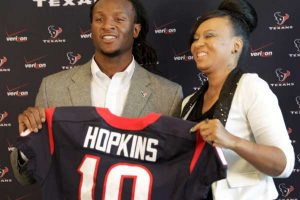 The most publicly well-known of Sabrina Greenlee's four children is current Houston Texans wide receiver DeAndre Hopkins, one of the best in the National Football League at his position. The former Clemson football player and NFL Draft first round pick was raised by Greenlee as a single parent after Hopkins' dad, Harris Steve Hopkins, died in a car accident when DeAndre Hopkins was only five months old. Greenlee was in the car when the accident occurred on rainy Georgia highway and only sustained a concussion. Following the death of Harris Steve Hopkins, Sabrina Greenlee was left to care for DeAndre Hopkins and two older half-siblings from Greenlee's previous relationship. However, dealing with that circumstance would not be the most challenging of her life.
In 2002, following a string of abusive relationships, Sabrina Greenlee faced a life-altering event when a woman that her current boyfriend was cheating with threw a mixture of bleach and lye at her. The chemical mixture burned and scarred Greenlee's skin and the cheating boyfriend picked her up, put her in a car and dropped her off at a nearby gas station with the intent to leave her to die. She was eventually flown to a medical center in Augusta, Ga., where she spent three weeks in a medically induced coma while doctors patched her face with skin grafts. She lost her sight due to the incident and the woman who threw the mixture at Greenlee, pleaded guilty to assault and battery with intent to kill and was sentenced to 20 years in a South Carolina penitentiary, where she has remained since 2003, according to court documents. Sadly, her circumstances led her to become a chronic drinker for years before she refocused her efforts toward her children.
Due to being blind, Sabrina Greenlee has never seen her son, DeAndre Hopkins, score a NFL touchdown or put on his Houston Texans uniform but she consistently is present at Texans games to support him and her strength gives him strength. Hopkins also works with his mom to bring attention to domestic violence. Greenlee founded a non-profit organization called S.M.O.O.O.T.H. Inc. to help victims of domestic abuse. The acronym S.M.O.O.T.H. stands for "Speaking Mentally, Outwardly Opening Opportunities Toward Healing". She will be able to get her message out even further as there is a film in the works about her life, her challenges, her successes, and her focus. There is no question about the courage of Sabrina Greenlee.
Staff Writer; Mark Hines