Which black leadership combination is more primed for success in major men's basketball?
(ThyBlackMan.com) It is tough for men's college basketball to make waves during the month of May. The NBA and NHL Playoffs take center stage as their respective championship series are about to commence. The University of Michigan's hire of former Michigan basketball star Juwan Howard as their men's basketball head coach shook up the basketball world over the last few days. He becomes the only black men's basketball coach in the Big Ten Conference, one of the best conferences in college basketball, in which all 14 Big Ten men's basketball coaches last season were white men. He is not the first black head coach for the University of Michigan but Howard might be the most significant given all the circumstances around his hire.
A former "big man" during his playing days, Juwan Howard's arrival to Michigan has drawn comparisons to that of Patrick Ewing being hired as Georgetown men's basketball head coach a couple years ago. Both men have joined their alma maters after being longtime NBA assistant coaches without no head coaching experience on the college or NBA level. However, a better comparison for the situation that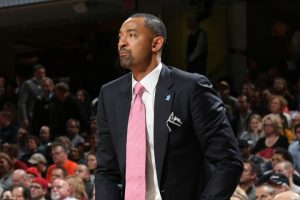 Howard finds himself in is comparing it to Vanderbilt's hiring of Jerry Stackhouse as their men's basketball head coach earlier this year. Both men were brought into their positions by black athletic directors which is vital to their success and support.
As of September 2018, there were just 12 black athletic directors among the 130 FBS institutions, which are the major college sports institutions. Due to the University of Michigan's history, brand, and large budget, Michigan athletic director Warde Manuel is among the most powerful athletic directors in the country. As a former football player, he is aware that while Michigan football will always be king of its athletic programs, the Michigan basketball program has a legacy as well including a national championship in the late 1980s and the Fab Five of the 1990s that Juwan Howard played for. The controversy of the Fab Five and their history did not stop Manuel from hiring Howard, nor did the fact that Howard would be a black man who had never been a head coach to replace the best men's basketball coach in Michigan history, John Beilein.
Like the University of Michigan, Vanderbilt University is a high level academic institution. It doesn't quite have Michigan's history of athletic success but they do have a nice recent history of successful men's basketball players and teams. Their athletic director, Malcolm Turner, is a black man with various leadership experiences in college and even the G-League, the NBA's developmental league. It is safe to say that is where he established a relationship with Jerry Stackhouse, who led the Toronto Raptors G-League team, to a championship in 2017. Turner is following in the footsteps himself of David Williams, who was the first black athletics director hired by a school in the SEC when he was hired by Vanderbilt before Turner. Williams died earlier this year.
It says a lot about Warde Manuel and Malcolm Turner, as black men themselves in high profile positions, that they are using their important positions within their respective athletic programs to hire two black former basketball stars without college head coaching experience to be the leaders of their men's basketball programs. It is a safe bet that many parents and guardians of recruits will recognize the names of Juwan Howard and Jerry Stackhouse for their lengthy basketball careers on the court. The support of their athletic directors will play a significant role in the success of their tenures leading basketball programs.
Staff Writer; Mark Hines