There would be value in a Gap Year for all adults.
(ThyBlackMan.com) One of the more interesting storylines of the hit ABC sitcom, Black-ish, is that the Johnson family's oldest son, Junior, is taking a gap year following his graduating high school to evaluate what he wants to do in life. His decision caused some tension between himself and his parents but the idea of a "gap year" is no longer a foreign concept and is happening more often than in the past. According to the Gap Year Association, a gap year is "a semester or year of experiential learning, typically taken after high school and prior to career or post-secondary education, in order to deepen one's practical, professional, and personal awareness". One interesting development is that some athletes are taking a year off from their sport to focus on other matters in their lives in the equivalent of a gap year.
The 2019 WNBA Draft was full of athletes that women's college basketball fans were very accustomed to. It seemed like the entire Notre Dame team was drafted, while UConn had their usual multiple high first round players drafted. The WNBA will definitely need to build off the momentum of that draft because two faces of the league will not be playing in 2019 for different reasons. 2018 WNBA Most Valuable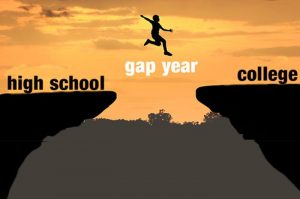 Player Breanna Stewart, arguably the best player in the league, will miss the 2019 WNBA season after tearing her Achilles' tendon playing basketball overseas. One of the biggest names in the WNBA, All-Star Maya Moore, will miss the 2019 WNBA season for a different reason.
Minnesota Lynx forward Maya Moore is sitting out this WNBA season to focus on family and ministry. Moore has been a basketball prodigy at virtually every level from high school to college to the pros. However, in February, she wrote on The Players' Tribune website, "My focus in 2019 will not be on professional basketball, but will instead be on the people in my family, as well as on investing my time in some ministry dreams that have been stirring in my heart for many years. I will certainly miss the day-to-day relationships with my teammates and basketball family this season, but my no for the 2019 pro season allows me to say yes to my family and faith family like I never have before. I'm sure this year will be hard in ways that I don't even know yet, but it will also be rewarding in ways I've yet to see, too." Moore doesn't use the words "gap year" in her description of her year away from her profession but her description fits the definition of a gap year because it she seems to want to deepen her practical and personal awareness.
A couple of weeks ago, Jacksonville Jaguars linebacker Telvin Smith, announced that he will sit out the 2019 NFL season. He announced his decision on his Instagram account writing, "It was said to me from a great coach, that in order for the man to be his best, he must get his world in order. At this time I must take time away from the game & get my world in order. I must give this time back to myself, my family, & my health. I appreciate all the support I will & will not get. I just ask y'all respect my decision to not play football this season." Smith is a talented NFL player in his physical prime so his decision is surprising but the words on his Instagram speak volumes. His words would also qualify in the same vein as taking a "gap year".
Unfortunately, most Americans cannot afford the ability to take a gap year. Both Telvin Smith and Maya Moore have each individually made over a million dollars of combined salary and endorsement money. It might be beneficial for people on many levels from a mental, personal, and health standpoint to step away from work for a year to focus on family, mental, and personal health. Of course, the financial situation for most Americans means that money takes precedence over more important things.
Staff Writer; Marl Hines