PS5 Touchscreen Controller: Playstation Patent Reveals a Nasty Surprise.
(ThyBlackMan.com) Sony's next-generation console PS5 could come alongside a newly designed game controller. The PS5 touchscreen controller – as many people are calling it – is ready only on papers. A patent application published recently revealed that Sony is planning a new controller with touchscreen. According to the images available on the US Patent and Trademark office website, Sony's new game controller will offer wireless connectivity features with a display on top.
The patent details don't reveal much about the functionality of the rumored PS5 touchscreen controller, but pictures give a clear idea of what we can expect from this display panel. It can either be used to display in-game information or Sony will probably add more social features to its next-generation console and the touchscreen panel could be used to access the same.
Recently, players of the VR game Astro Bot Rescue Mission discovered an image of a controller in the game. The controller's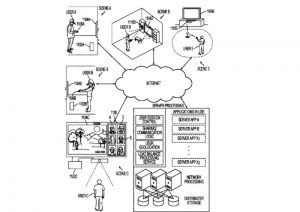 design looks similar to what is shown in the patent application. Fans have already started connecting the dots and discussing possible choices Sony could make with the new controller. A Redditor said that Sony could use the design for a handheld device. The possibility of the same is almost zero because the display size shown in the figures is too small to enjoy games. It is not big enough that people would want to play games on it that too when the control buttons are sitting just next to the screen.
It should be noted that Sony has expressed its interest in returning back to the handheld space. Sony's PlayStation chief John Kodera who replaced Andrew House said that we should see portable gaming as a part of Sony's video game community. Through portable gaming, Sony can deliver more gaming experiences and it can help Sony learn more about consumer demands, he added. Kodera's statement looks different than what House said about portable gaming. During an interview, Andrew House said that he doesn't see any market opportunity in the future for portable gaming platforms. The statement was a response to a question which was asked about Nintendo Switch's growth.
What Sony is planning in the portable gaming market is still a secret, but it looks like the company is now thinking beyond House's analysis. Maybe the company will improve its Vita lineup because, since 2011, they haven't refreshed the design and hardware of their only surviving handheld console. If the rumored PS5 touchscreen controller turns out to be a combination of a handheld and a controller than it would be good if Sony keeps all the new generation DualShock features while ensuring that the touchscreen offers more features instead of looking like a gimmick.
The touchscreen can be used to display maps, inventory, game stats, and other details, and it can also be used as an independent handheld console for remote play. Sony will less likely bring any new hardware similar to the Nintendo Switch. A dedicated mobile gaming hardware would be a good idea, but if Sony can manage it with a controller, they should go with the latter.
As stated above, Sony's PS5 touchscreen controller is nothing more than a patent application. Tech companies often present their ideas and most of those ideas don't see the light. Sony's current generation DualShock controllers feature a trackpad button, but the idea of putting a touchscreen on a controller is unique as Sony never tried this before. According to reports, Sony's next-generation console PlayStation 5 may arrive as early as 2019 or 2020.
The patent details are pretty vague and Sony can do anything with the design as product plans can be changed. Earlier Nintendo has tried working on a similar concept for its Wii U and they failed, so Sony will also keep that in mind if this is the case here. We'll just have to wait for some more time to see what happens.
Staff Writer; Corey Shaw
Have any Tech Tips? News? Hit up our Tech Guru at; CoreyS@ThyBlackMan.com