How to Freshen Up Your Relationship This Year.
(ThyBlackMan.com) Are you tired of doing the same old things with your partner every day or weekly?  Are your date nights predictable?  Do you wear the same clothes and your partner is just over it or nags to you about getting a makeover or wearing a different style clothes?  Here's some simple ways to freshen up your relationship this year, no matter how long you two have been together, that will definitely put a smile on your partners face:
Instead of your everyday routine, surprise your partner and switch things up a bit.  Cook him/her breakfast in bed if they're usually the person who does this task for you.  Create a soothing environment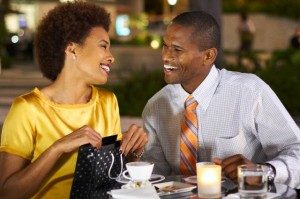 that can spark some much needed romance in your lives.  Light a candle, create a cheese board and pour your partner a glass of their favorite wine and give them a neck or foot massage.  Your partner will notice that you are making an effort to spice up your relationship and be more receptive to you.
Throw away that go-to shirt, pants or shoes that you wear for everything, that your partner cringes every time you wear it.  Ask your partner to go shopping with you and ask them to pick out something that they would love to see you in, and wear whatever those items are on your next date night.  If your partner admires a certain color or style, wear it periodically to freshen up the relationship.  You may be speaking their love language.
Speaking of love languages, find out what their love language is and do it!  Your partner (and you) have a primary love language.  The five love languages according to Dr. Gary Chapman are:
1) words of affirmation
2) quality time
3) receiving gifts
4) acts of service
and
5) physical touch.  So try each of these love languages out on your partner and see what brings them the greatest joy, that's how you know what their love language is.  Or, you can simply ask your partner what's their love language and do more of that to help freshen up the relationship.
Too often we get complacent in our relationships and we forget to do the things that made our partners fall in love with us in the first place.  If you value your partner, you will be committed to making sure that they remain happy and feel loved because if not, you are asking for infidelity or other relationship problems to occur.
If your partner loves to receive gifts, give them gifts.  Give them gifts at any moment not just on their birthday or Christmas.  It doesn't have to be expensive gifts all of the time.  Maybe it's something as simple as buying their favorite flower or gadget that they've been wanting.  A shirt you noticed them staring at but they didn't purchase it at that time.  Go back and purchase that shirt or while they're trying on clothes, purchase the shirt and hide it in the car and surprise them with it when you get home.  This shows that you are attentive and who doesn't love an attentive partner?
Don't make a spectacle trying to freshen up your relationship just do small things to get you started.  Send an "I miss you" text in the middle of their work day.  Do more of, what your partner likes or loves to do, and be genuine about it because they can tell if you're not.  This is a new year with a new opportunity for you to freshen up your relationship.
Staff Writer; Felicia T. Simpson
One may also connect with this sister online over at; FTSimpson.com.