5 Tips for Meeting Customer Needs at Your Restaurant.
(ThyBlackMan.com) Whether or not you believe that the customer is always right, they're mighty important when it comes to running a restaurant. For your business to prosper, you must consider what people want and how you can provide it for them. These are five tips for meeting customer needs at your restaurant.
1. Get Feedback
Soliciting feedback must be done if you want to operate a successful business. Sensitivity to criticism can be a huge hindrance to keeping your business alive. You should interact with customer feedback on outlets such as Facebook and Yelp. If there are complaints, respond to them and assure them that you'll take care of it. Letting yourself accept criticism shows that you care about customers and that you want them to have the best dining experience possible.
2. Appeal to Different Tastes
The more tastes you cater to, the more satisfied your customers can be. You don't need to make your restaurant a mishmash of different,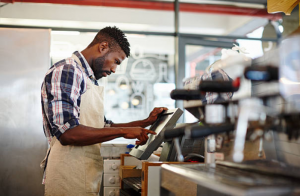 contrasting ideas, but you should be flexible in terms of the kinds of dishes you offer. For example, there should be at least some vegetarian and vegan dishes. You should also do your best to appeal to people who have certain allergies or food sensitivities. Designing your menu in a way that gives more people access can only help. These customers will be glad that there's at least one restaurant owner who's taking the time to figure out the value of reaching across as many aisles as possible.
3. Have a Good POS System
Your customers might not be going to your restaurant on the basis of how well your POS system runs, but this kind of technological focus can really help. Your POS system software must be kept up-to-date and fully operational. Otherwise, customers could have gripes about slow processing times. Quality POS system software can be a silent hero when it comes to keeping people coming back to your restaurant.
4. Emphasize
Customers like to feel like they've been not just heard but listened to as well. If someone tells you about an issue they had with their dining experience, be it from the meal, the service, or something else, take the time to really listen and emphasize with them. You might know that such a situation is an anomaly, but even one occurrence is too many. Put aside any feelings of ego and let them know that you will do your best to make sure it doesn't happen again.
5. Promote Customer Loyalty
Without customer loyalty, your restaurant's success is going to be in doubt. New business is always welcome, but having a consistent stable of people coming in to dine can really help. Find ways to reward customer loyalty. You can have membership cards that entitle customers to a free meal based on their patronage frequency. You can also promote loyalty by getting to know people and greeting them whenever they come in. Having great food will bring people into your restaurant. Having great service will keep bringing them back and have them spread positive word-of-mouth.
Find the balance of harmony that lets you satisfy your customers and live up to your own expectations as a restauranteur takes time. You'll need to weed out any wrongful assumptions you've had about customer demands by actually listening to what people want. Prove your worthiness as a business owner by showing customers that you need them more than they need you.
Staff Writer; Bobby Wall