Bubba Wallace's admission reemphasizes Mental Health Month.
(ThyBlackMan.com) The challenge of being a racial numerical minority in a historically white profession or career comes with numerous difficulties. It can be emotionally and mentally draining to feel like you have to dispel negative racial stereotypes while at work constantly. The sport of NASCAR has not been the most racially diverse when it comes to comparing it to other professional sports in America. Because of its origins in the deep South, there are unfortunate and sometimes justifiable negative connotations when it comes to how accepting the sport, its fans, and the NASCAR community are to people of color, particularly black people. The mental challenge of being the only black driver in NASCAR's top level falls at the feet of 25-year-old Bubba Wallace, who has opened up about his mental health including depression publicly.
Many people might be unaware that May is Mental Health Month. Mental Health Month was started in the United States in 1949 by the Mental Health America organization and reaches millions of people through a variety of platforms. Too often mental health is brought up negatively especially during school shooting situations when accessing the perpetrators of those horrific acts. However, mental health is something that all people must deal with including professional athletes like NASCAR's Bubba Wallace.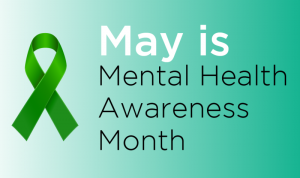 Bubba Wallace opened up to the media while talking about his struggles earlier this month while saying, "You try to be the best you can, and sometimes it ain't damn good enough." He showed a range of emotions while discussing his feelings including burying his face in his hands. His acknowledgment of depression was also accompanied by his mentioning that his fans have been shouting support to him and "shouting my name. A frustrating weekend, but going through the stands, it was nice. It was nice to see all the support and love." It just might be that NASCAR's only black driver is among the more than 16 million of American adults each year affected by depression.
Anytime a person allows themselves to be vulnerable in front of people that takes strength. Wallace showed strength by addressing his depression publicly. However, one of the unnerving things about some of Wallace's comments were that he didn't mention seeking treatment for his mental health but mentioned that he has dealt with his chaos in part by getting into his car. According to the Anxiety And Depression Association of America, "nearly two thirds of people with a known mental illness never seek treatment." It is nearly impossible to treat the depression without it being individually assessed by a trained professional.
There are numerous sayings about the battles within that all people face because we are taught to fend for ourselves in this society. It is especially not common for a black man to discuss any weaknesses publicly because stereotypes about black manhood regarding weakness and vulnerability often lead men and black men to hold in feelings about fear and feeling hopeless.  People are now more aware than ever that it isn't the best thing for mental health to hold feelings in. There is also a race component that plays a part in the mental health of people of color dealing with racism virtually everyday. It is best to consult a personal therapist or psychiatrist regarding your mental health situation.
Staff Writer; Mark Hines