Shining a light on the chivalrous acts of professional and collegiate athletes.
(ThyBlackMan.com) It is no secret that professional sports and professional athletes get a ton of attention in American society. Names like Stephen Curry, Serena Williams, and Odell Beckham Jr. are among the most well known in the country. Unfortunately, when high profile athletes like NFL Pro Bowl wide receiver Tyreek Hill are in the news for potentially violent acts or situations, that leads many to believe less of athletes and to stereotype them. Those stereotypes are enhanced for athletes because many of the best athletes on the planet are black men, who are born into an American society with numerous negative stereotypes attached to them because of the long history of white supremacy and white privilege. However, there should be attention paid to athletes when they are doing things off of the field or court that do not involve domestic violence, guns, or illegal activities.
It is not surprising that many professional athletes come to the aid of people when they really need help. Last month, 2018 NFL Defensive Rookie of the Year and Indianapolis Colts linebacker Darius Leonard decided to assist a stranger in need a few weeks ago. While in South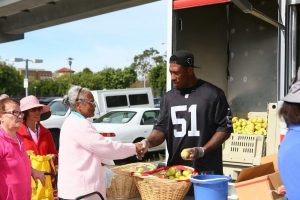 Carolina, Leonard helped woman named Martha Isbell by changing her tire on the side of the road. Changing a tire isn't life-changing but it can be life-threatening at times for a few different reasons. It is also worth mentioning that Leonard just finished his first year in the NFL after playing at South Carolina State, a HBCU and the only state funded, historically black land-grant institution in South Carolina.
Sometimes college athletes can make a life changing difference by inserting themselves into a situation. Former Arkansas linebacker Dre Greenlaw, who was drafted in the fifth round of last month's NFL Draft, did a significant deed back in 2015 when he was an underclassman at a college fraternity party. While at the party, he met a former high school classmate, Meghan, seem disoriented and mentioned to him that someone might have put something in her drink. Greenlaw did not go to the party with her but kept an eye on her from guys trying to potentially take advantage of her. Greenlaw eventually found the friend that Meghan came to the party with after an half-hour search and Meghan called him the next day and informed him that she had to have her stomach pumped at the hospital to remove the Rohypnol, also known as a "roofie," that someone had put in her drink. Meghan's dad and Meghan both called Dre Greenlaw to congratulate him after being drafted into the NFL last month. In an era where sexual assault has become a serious issue, it is impressive that Greenlaw provided security to a vulnerable young woman on a college campus while he was also a young man himself.
The NBA is also full of high character and quality guys as the league is in great hands from a talent and character standpoint. Utah Jazz guard Donovan Mitchell, who is considered a building block of their franchise, decided not to be just a bystander in late April when he stopped to assist a woman involved in a car crash before calling 911. Mitchell didn't save her from a burning car or rip open the car door to save the woman but most people do not stop to assist after a car accident and would rather just watch the results of it. Professional and college athletes should be recognized when they take positive action for strangers and don't seek fame for doing what is right.
Staff Writer; Kelvin Shaw