Could A Revised History Curriculum Save Us From Further Hate Crimes?
(ThyBlackMan.com) In the past three years alone, the FBI has revealed that hate crimes have spiked across America by 17%. Of these cases, most came down to racial and anti-semitic attacks. But, whether people are discriminated against for their race or their religion, it's happening far more than most of us like to admit.
Of course, there are many reasons for this growing unrest. A lot of people are, obviously, quite quick to blame Trump's inauguration for the rise. And, there's no denying that anti-migration policies have been something of a green light for some hateful individuals. But, it's also important to note that hate crimes rose steadily through Obama's presidency as well. As such, pinning racial and religious tensions on Trump alone would be naive.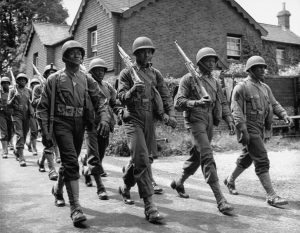 You could also argue that the media are partly to blame for these worrying increases. The growing popularity of social media, for instance, is providing a space for mostly unmonitored hateful rhetoric. This is contributing to normalizing something which hasn't had a platform for many years now.
And, of course, there are the countless high-profile instances of discriminative killings by law enforcement. This is one the main fears that black men face today, and it's behavior which sends an undeniable negative message. In a world where the people we trust to keep us safe are killing young black individuals with no repercussions, an increase in hate crimes seems somewhat inevitable.
But, we've heard all these arguments before. What we haven't considered is the part that history plays in these events. That seems strange, given that history holds some of the most vital lessons of all about the discriminations we're falling foul to today. Our history books hold the horrors of slavery and remind us why equality matters. Our WW2 veterans and Holocaust survivors can tell us exactly why anti-semitism is a downward spiral. And yet, these are resources which we don't turn to. Kids are less engaged in history lessons than ever before. Our WW2 veterans are fast on the decline, and yet none of us ask 'How many WW2 veterans are still alive?' or 'What can they teach us?'. We're so busy looking at hate crimes today that we forget to consider the lessons and warnings which history has to offer.
A closer look at the talks around hate prevention in schools reveals that this is changing. In 2017, the Department of Justice hosted the first conference discussing how teachers can tackle hate. Since then, some steps forward have been taken. The organization 'Facing History', for example, offers school speakers including Holocaust survivors.
Sadly, these efforts are currently on a one-to-one basis. There's still a long way to go before a focus on historical hate crimes becomes part of the curriculum. And, as is always the case with changes like these, progress is moving at a slow rate. If we want to tackle hate at its core, though, there would be a strong argument for looking backwards rather than forwards as we move ahead.
Staff Writer; Roy Moore