Small Apartment Makeover Ideas.
(ThyBlackMan.com) Decorating and organizing a small apartment can be a challenge. However, there are lots of ways to maximize each space in a small room and make it look spacious as well. Whether you are renting an apartment or have a room of your own, here are some tips on how to customize your room with style and ease.
Go for natural lighting. Opt for white curtains instead of blinds to let natural light flow in from your window. If you have a vanity space, you may choose to display small ring lights around it instead of purchasing bigger lamp shades.
Choose light-colored paints. Light colors tend to create an illusion to make a small room appear larger. Soft tones such as an off-white, blue and green are more reflective and will also make the space appear brighter. Try choosing a lighter color paints for walls and add a brilliant contrast on the sides.
Maximize wall space. Add a few headboards on your walls to create new storages for books and other small stuff. You may put up few framed items as well but avoid overcrowding it. You may also place a corkboard for memos and reminders instead of piling up a lot of papers on your desk.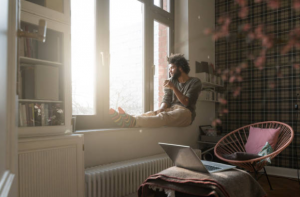 Purchase foldable, multi-functional furniture pieces. Portable and foldable furnitures are now becoming a trend as many people starts to embrace minimalism. Most space-saving furnitures can be transformed to many uses such as foldable dining tables and chairs that can be convertible to sofa beds.
Practice minimalism. They say that if something isn't giving you joy, you have to let go of it. Getting rid of stuff that aren't really important to you will not only give more space to your room but will also help you avoid more clutter in the long run.
Use smart storage boxes. If there are few materials that you don't usually need but are very sentimental to you, you can put everything in storage boxes. This method will leave you guilt-free of throwing away stuff while making your room more spacious.
Utilize vertical spaces. Aside from keeping the floor clear of any items, you can create a DIY under bed storage organizer where you can put your shoes, some clothes or books. This idea will make a much better use of space while keeping your bed comfy and immense.
Add mirror to your room. The reflection of a mirror creates an optical illusion which makes your room expansive. Make sure to opt for a wall or a cabinet with a built-in type instead of buying a full-body dressing mirror.
Declutter often. Sometimes having a small space isn't the problem. It's not being able to declutter often. Always put things where it belong. All used socks, clothings and garments should be placed on a hamper right away. Pile up the papers, segregate the important documents and dunk everything unnecessary on the trash bin. You may also schedule getting rid of items every 30 days to free up more space on your organizers and storage boxes as well.
Simplicity is the key!
Apart from making your apartment look brighter and more spacious, always see to it that your place is the one you can call "Home sweet home". As much as you want to add lots of fancy stuff on your apartment, it is better to make it simpler and cozier.
Staff Writer; Ellie Carter